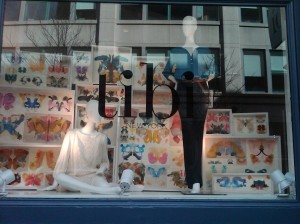 There's a whiff of Spring fever in the air, but that will go away tomorrow when NYC will be hit with some snow showers. When the sun is shining and a fur coat isn't required, walking around and going into different stores is a satisfying "activity" for me. I spent my morning downtown, having my usual breakfast at Balthazar, and then making my way into different stores, one of which was Tibi.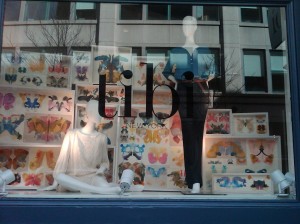 Tibi is one of my favorite clothing lines because of its wide range of colors, patterns, and styles. It's better to shop brand names at their own store rather then a department store because you can find more sales, sizes, options, and have an overall better shopping experience.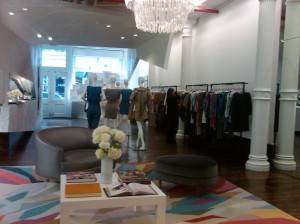 The layout and design of Tibi's store is gorgeous. When walking into the store, I first came across a set of mannequins styled in Spring attire. On my right was a desk with candles, green apples, and flowers, while on my left began the racks of clothing. Straight ahead is a little area for sitting: a multicolored rug with gray comfy chairs, and a white table covered in different coffee-table books. In the back of the store is a "design" area, with a board of runway looks, sketches, markers, paints, etc.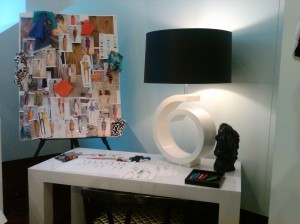 Out of the many racks of clothing, there were three that particularly grabbed my attention. The first rack was all black and white -jackets, pants, dresses, you name it- in everything from animal-print patterns, solids embellished with leather flowers, solid leather, plus more.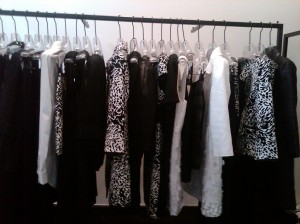 The next rack had more color: blue floral printed blouses, suede jackets, red knits, and safari-looking frocks. I tried on a purple dress with military-esq shoulder embellishment in gold, grey, and black beads: it was pretty, and on sale, but the color was too dusty for my liking. The final rack that caught my eye was full of swim wear. Gorgeous purple coverups embellished with chunky crystals, orange and purple shorts with matching tops, blue and white striped pieces, plus more.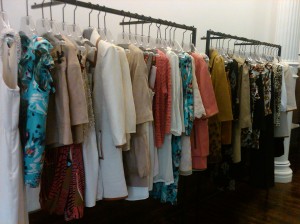 Check out Tibi in Soho at 120 Wooster.