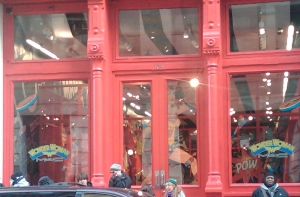 A few weeks ago, MAC Cosmetics opened its first pop-up store in Soho to celebrate its launch of Wonder Woman makeup. I finally made it to the ever-so-red store this weekend (the building is so bright that you couldn't miss it even if you tried), and I was a bit blown away. In collaboration with DC Entertainment, MAC launched a cool and retro collection of Wonder Woman inspired makeup to celebrate the 1980's comic-book icon.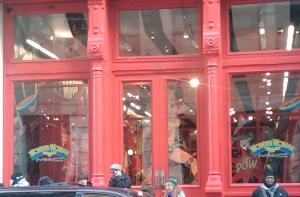 When walking into the store, I first encountered the oversized poster of Wonder Woman hanging from the ceiling that was so tall that my head went all the way back when starring up at the face. On both sides of the stores are all of the Wonder Woman comic-books from the 80's, chronologically placed to perfection.
In the middle of the store sits endless amount of makeup, the Wonder Woman collection placed in comic-book looking holders, in addition to the standard all year round MAC Collection.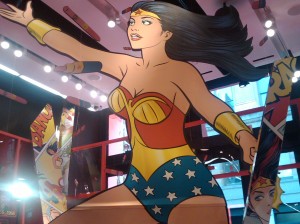 Some makeup that you'll find in the Wonder Woman collection are dark lipsticks, bright lip-glosses, three different pallets of eyeshadow -blue, pink/purple, and green- (the pink/purple is my favorite), blush, plus more. I'm obsessed with the packaging, so even if you don't like any of the makeup itself, I would even just buy something for the packaging because it could be a collectors item years from now.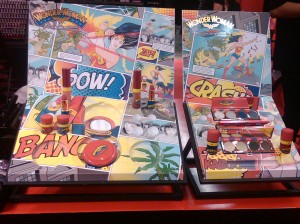 If you want to try some "pops" of color while at the store, get your makeup done by a MAC makeup artist and indulge in the Wonder Woman spirit by sitting in high chairs with bright lights on you, in addition to Wonder Woman sayings blown up on the walls.
Another great item that is sold at the pop-up are metallic brush cases in red, blue, and gold: super chic. If you want to get transformed and experience this Wonder Woman makeup land like me, be sure to check out the pop-up before it closes in mid April on 113 Spring Street.