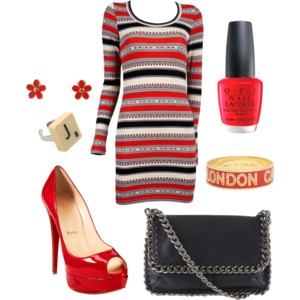 It's a yucky Friday in NYC: it's been raining all day, and it's also a bit humid outside which never makes a good hair day. Today (luckily) I got to be comfy and casual instead of being in my uniform. I wore black leggings, a grey v-neck, a black sweatshirt, a leather jacket, and grey and orange Nike Air Max sneakers: my friend Sunny called this the "sporty yet chic" look.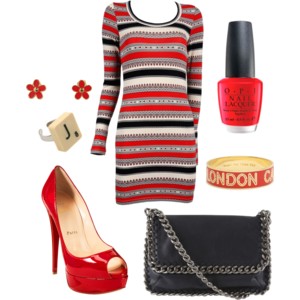 Although I'm not in the mood to get dressed up right now, I am in the mood to browse online-stores for dressy pieces. While looking at the Wink NYC website, I came across a Torn by Ronny Kobo dress that is great for Spring. Torn is a brand that I find myself wearing when I need an easy dress or a colorful tunic. Torn can be found anywhere from a department store to Intermix.
Torn by Ronny Kobo just came out with a "Zoe Blanket" jersey dress that is an adorable frock to add onto your Spring wardrobe. The dress will be an all-day look with its Aztec pattern in navy-blue, white, and red. I think that dresses are the easiest type of clothing because they work for all occasions, they're easy to pack for a weekend getaway, and if you wear a long-sleeve dress on a warm Spring day, a jacket is most likely not required. Do you like dresses just as much as I do?
For a Spring day, pair this dress with a navy-blue and silver chain handbag, red peep-toe pumps, a red cuff, red earrings, and a quirky vintage ring. Red or classic light-pink nails (Essie's ballet slipper) will also look great, and if it's chilly out put on some sheer tights.
The dress is available on WinkNYC.com for $165. I will be taking a relaxed approach for the rest of the afternoon, reading People and US Magazine, getting my work organized, and watching the premiere of The Real Housewives of Miami that I Tvoed. I heard the show got mixed reviews, but I love Miami and want to judge it myself. Enjoy your Friday night!