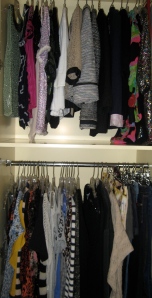 It might not be officially Spring, but that hasn't stopped me from getting a head start with Spring cleaning. Since I just got back from Florida, I thought it would be a good idea to re-do my closets. Each major climate-changing season, like Winter and Spring, I go through my clothes and decide what I know I'm going to wear, and what's just taking up closet space: in NYC, you need every inch of closet space you can get.
I have four closets and a large dresser where I store my clothing, shoes, and accessories. In my main closet, every piece is categorized by color, style, and type. The top portion is full of dressy sequin tops (sleeveless to long-sleeve), blazers/dressy jackets (patterns to solids), and skirts (shortest to longest). The bottom portion of my closet starts off which sleeveless casual blouses, short-sleeved and long-sleeved casual blouses, sweaters, cardigans, shorts, jeans, and ends with leggings.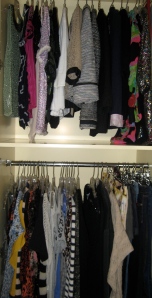 In my other main closet are my dresses, shoes, and when the weather warms up, my Winter clothes. On the floor are stacked flats with some platforms that don't fit in between the shelves, sneakers, and sandals. On the shelves are pumps and booties, and up top are Winter boots which I pray I won't need to wear for the rest of the season. My last closet is basically for whatever doesn't fit anywhere else, mostly large totes for overnight trips, etc.
I have a separate closet for handbags, hats, gloves, and scarves, which aren't as organized as I would like, but is still neat. In my dresser are my intimates, gym attire, bathing suits, comfy clothes, sunglasses, and jewelry. A tip for organizing your jewelry: purchase lucite containers from The Container Store and divide each section by necklaces, rings, bracelets, etc.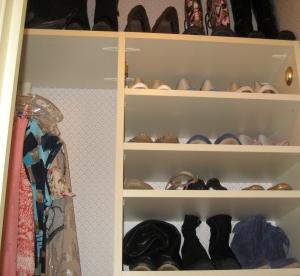 It might seem complicated, but when getting ready I don't want to have to think: I want to pull something out of my closet, and not have to search for my missing favorite blouse, or the accessory that goes with my outfit. I suggest that you go through your closets and get rid of everything that you know you will never wear, and has been sitting in your closet for years: out with the old, and in with the new. A way to make more space in your closet and make money while doing so is giving your clothes to a consignment store like Second Time Around, which I give to every time I "Spring clean". This is your chance to get organized, make some cash, and spend it on a new season's worth of clothes.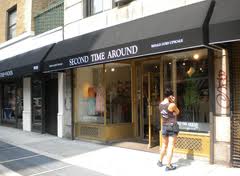 P.S: here's how I wore my blouse from Anthropologie in Palm Beach…take me back!