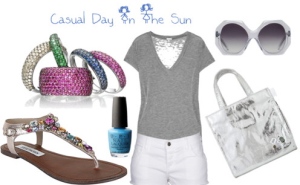 The hours prior to heading back to NYC this afternoon will be spent walking around on Worth Avenue, lunching, and getting some more sun. It's hard to imagine how you can be in eighty-degree weather one day, and eighteen on another. Although my fur jacket awaits, I'm still taking advantage of the shorts and sandal aesthetic for one more day.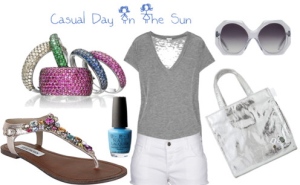 A great outfit for walking around on a hot sunny day when you want to be casual yet chic is the following: white shorts, a v-neck, fun sunglasses, a light handbag, and a statement shoe. When wanting to follow this aesthetic, I like to wear my shell-embellished Jack Rogers sandals: they're comfortable, stylish, and fun.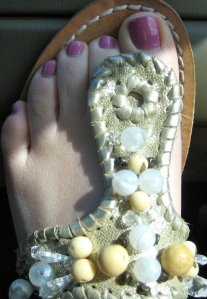 Steve Madden recently came out with a pair of "Groom" sandals that have a similar look and will be a go-to sandal for casual days in the sun. The sandal is flat, silver, and embellished with gorgeous colored stones which creates a glamorous and statement-making look (the purple stones are my favorite). You want the shoe to be the center of attention, so keep the outfit simple: white shorts, a gray v-neck, a silver tote, clear sunglasses, and some fun crystal rings. If you're obsessed with having perfectly polished nails like me, give yourself a quick polish change and put on a fun color like blue.
The shoes are available on stevemadden.com for $80.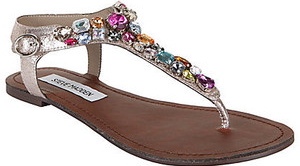 By the way, I figured out what to wear last night, and I was very content with what I was wearing. What I didn't mention was that after I went to Nordstrom, I stopped into Anthropologie which was next door. I purchased a Chanel-looking tweeted light jacket in pale colors, and a turquoise and navy-blue short-sleeved blouse which I wore last night. I paired the blouse with white jeans, my nude pumps, my nude Balenciaga bag and my gold BCBG earrings.
Anthrpologie is a great store for fun blouses and accessories, and I highly recommend shopping this store for Spring and Summer pieces.