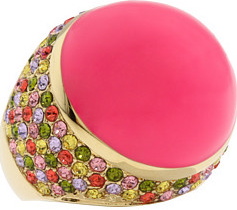 Hi from Miami! It's a beautiful day, and I'm very happy to be here. Even though it was a nice 60 degrees when leaving NYC, it still feels great to be in my bikini rather than my leather jacket. When arriving in Miami, I had to run to my hotel, the Fountainebleu, and change to go to a dinner party at the Loews Hotel. Having to somewhat stay in my city attire, I fashioned black leggings, my BCBG new black wedges, a black tank with a white boyfriend blazer over it, a black Chanel purse with gold hardware, gold hanging earrings, and two gold snake rings.
Today, I fashioned white shorts, a white and blue blouse, silver shell embellished Jack Rogers', my blue Goyard handbag, my gold hanging earrings, and a new accessory. When going away on trips, I always feel like I need something new to freshen up my outfits. Before leaving to Miami, my mom came home with a gift because I won a silver key in the Scholastics Writers and Artists competition: this gift was from one of my favorite store, Jennifer Miller.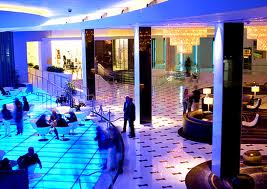 My mom bought me a stunning royal-blue stone thick bracelet that gives my Miami looks an extra ounce of glam and color. The bracelet is fun, colorful, and bold which are definitely outfit-making qualities. If any of you are away or are going away, I suggest getting a reasonably priced piece of jewelry that will give your outfits a "pick-me up".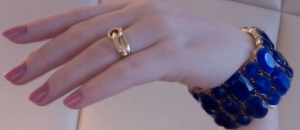 Kate Spade New York recently came out with a gorgeous "lollie" cabochon ring that is the perfect add of color and glam to your outfits and jewelry box. As the Nordstrom website says, this luscious ring starts with a smooth cabochon in a striking hue that tops a gleaming gold setting encrusted with colorful jewels. The surrounding jewels are my favorite part about the ring: lime green, dark green, orange, pink, and lavender.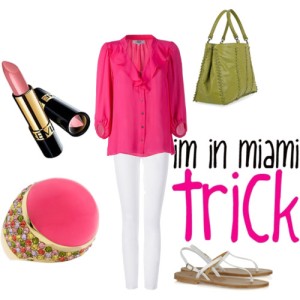 If vacationing in a sunny area, wear this adorable ring with white jeans, a hot pink blouse, white flat sandals, a lime green tote, and rose-pink lipstick to tie the look in with the ring. Tonight I will be going out for dinner at Gotham Steak. I don't know what I'm wearing just yet, but I will be sure to inform you in my next post. Check out the Kate Spade New York Ring for $95 on Nordstrom.com