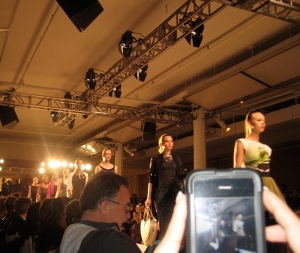 This has been an amazing week, and I am so excited that I've been able to participate in the Fashion Week festivities. Each show that I've attended is great, each collection known for something different: be it color, dresses, patterns, etc. I ended my week of "fashionable events" by attending one final fashion show last night: Bebe.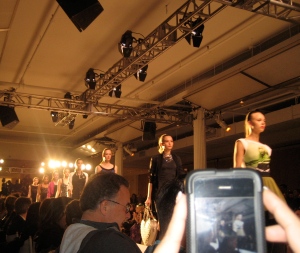 Flirty dresses, bright colors, leggings, patterns, leather jackets, puffy skirts, and metallics are some of what you'll see in the Bebe Fall 2011 collection. The show started off with the lights off, and two model-looking women playing the violin (modern, not classical, music): it was actually quite enjoyable. Then came on the fast techno/pop music, mostly remixes of popular songs on the iTunes charts. Models styled to perfection, with high pony tails and colorful ribbons going through, and bold red lipstick topped off the ultimate chic city-girl look.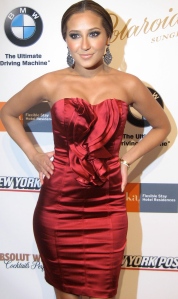 I liked almost every look that came down the runway, with the exception of some puffy satin dresses that were cheap looking. Some of my favorite pieces from the collection are the blue metallic skirt, black leather coat, black cocktail dress, and pink and orange dress. The collection is fun, girly, and practical, perfect for the girl who wants to look chic in the office and sexy at night. The show ended with Bebe Founder, Manny Mashouf, coming out on the runway, being applauded by the large audience.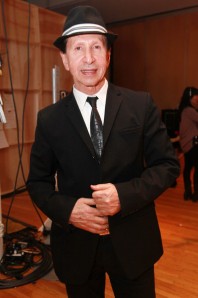 What was just as fun as watching the show was meeting and seeing the crowd. Attendees included Jersey Shore's Sammi Giancola (who was so nice), The City's Louise Roe, actress Adrienne Bailon, America's Next Top Model contestant Jade, Editor in Chief of Elle Magazine, Robbie Myers, plus more.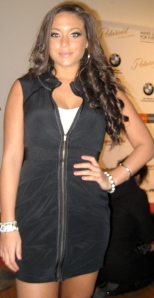 The Bebe show was a great way for me to end this week, and I am already excited for Fashion Week in the Fall. Tomorrow I am going to Miami, a much needed break, and will be giving you fashion updates from there. The sunshine state awaits! P.S. Follow me on Bloglovin.com!