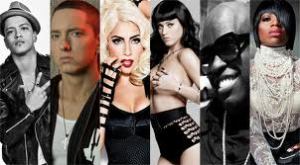 It is a beautiful day in NYC which is perfect for going to my next fashion show at Lincoln Center: Pamella Roland. In the midst of Fashion Week, we all took a pause to watch our favorite singers at the 53rd Annual Grammy's last night perform, accept awards, and most importantly see what everyone was wearing.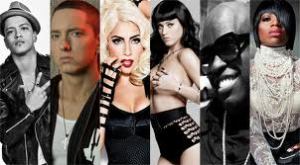 I literally watched the Grammys, and Grammy-related TV, from 6:00pm-11:30pm. It was pretty intense, but my mini Grammy party at home -full of different cheese, fruits, and bread platters- kept me into it. The Grammy's is always filled with surprises, most recently due to Lady Gaga, who did not disappoint last night. Gaga arrived on the Red Carpet a bit differently than the other stars…she arrived in an egg, and didn't come out until performing in which she and her dancers fashioned yellow outfits, which seemed to represent the yoke of an egg: strange, but we've got to hand it to her – she is creative.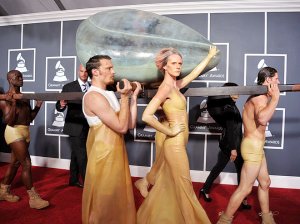 Despite Gaga's strange entrance, some other ladies wowed on the red carpet. On my post next to this one, you can see pictures of my favorite looks from the show. In order of the photos, here's what everyone wore: Jennifer Hudson in Versace, Selena Gomez in J. Mendel, Jennifer Lopez in Emilio Pucci, Kim Kardashian in Kaufman Franco, Miley Cyrus in Roberto Cavalli, Lea Michele in Emilio Pucci, and Ciara in Emilio Pucci: Pucci seems to be the hot designer of the night.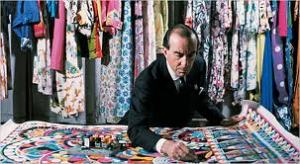 All of the ladies I just mentioned looked amazing, all looking age appropriate, stylish, bright, and star-quality. I don't like to criticize, but there's one star whose outfit really made my "out" list: Nicki Minaj, who looked like an actual animal. Fashioning Givenchy, I don't think this was a good Red Carpet moment. I understand when stars are creative and eccentric, but this look did not work for me, including the sky-high hair. What did work for me though was her lipstick: the pink looks gorgeous and really brought out her eyes.
Rushing to get ready for Pamella Roland: get ready for full coverage on the show, and be sure to follow me on Twitter @SydneySadick