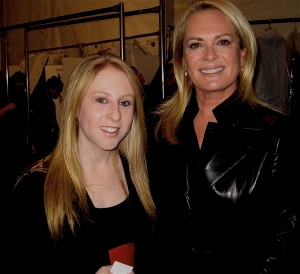 Back at the tents in Lincoln Center again! (One of my favorite places to be, may I add). Since it is Valentine's Day, I decided to wear a VDay inspired look: a crystal-belted red BCBG skirt, a boyfriend blazer, tights, black pumps, black jewelry, and my black Balenciaga purse: I didn't need a jacket since it was shockingly warm out. After socializing in the different "stations", where I bumped into the lovely Lyss Stern of Divalysscious Moms, and Editor In Chief of Observer Playground, I made my way to The Studio, where the Pamella Roland show took place.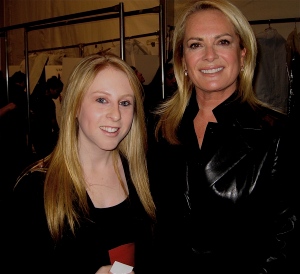 Celebrities, stylists, and fashion guru's were some of the show's attendees: stylist June Ambrose, Ms. Jay from America's Next Top Model, actress Brittany Snow, Ramona Singer from The Real Housewives of New York City, photographer Nigel Barker and his wife (who I also saw at the Jill Stuart show), costume designer Rosemary Ponzo (who I sat next to), plus more. After everyone got settled in their seats, the lights went dark, the music started to play, and the show began.

Roland's Fall 2011 collection is full of sequins, patterns, colors, lace, and embellishments. The collection is dressy, and is the perfect line to shop for that glamourous and extravagant night on the town. There are long dresses, cocktail dresses, gowns, dressy pants with blouses, fur vests, dressy coats, plus more. I truly loved each and every look because each one had it's own "wow" factor, and there was variety.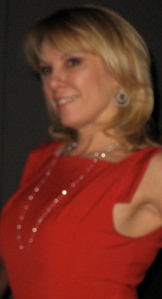 Models looked classy and cool with a poof-bun hair style and red lipstick, which was the perfect look for this collection. What I really like about Pamella's collection is that it's wearable, and it was presented on the runway in a way for the woman (customer) to envision herself in the clothes.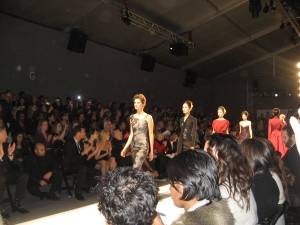 At the end of the show, when the models took their final walk, everyone clapped to the popular remix of The Time (Dirty Bit) by The Black Eyed Peas. Following the models came Pamella, who walked down the runway with her children: it was such a sweet moment. After the show, I went backstage and had the opportunity to meet Pamella and her children, which marked the ending of a great day. Now it's time for me to go watch Gossip Girl: a relaxing way to end my evening.