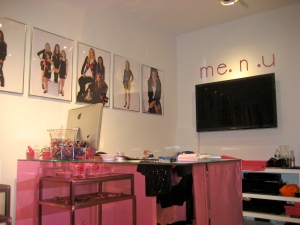 A typical Saturday for me is spending time with family and friends, going to cool restaurants and museums around the city, and checking out new stores that I think are blog-worthy. As I was walking around the Upper East Side this past Saturday, I decided to go into a new and adorable store that my tween readers and their moms won't want to miss. It's me.n.u.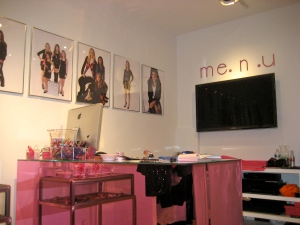 Me.n.u gears to 8-16 year olds and is the ideal store for a mother and her child. The store is best known for the ability to customize. Not only can you customize adorable me.n.u brand pieces like sweatshirts -be it the color, design, or embellishment detail-, but you can also customize Ugg boots, etc. The store not only carries the me.n.u brand, which is most definitely the greatest brand in the store, but brands like So Nikki, Joe's Jeans, plus more. While the younger one is shopping the adorable clothing displayed color coordinately on shelves and hangers (pink of course) and accessories like bags in metallic colors with different sayings and NYC area codes, the mom can shop the beautiful jewelry designs of Kelly Gerber and get her initials on certain pieces.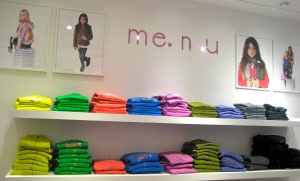 Shopping at a store that is just as gorgeous as the merchandise is a big plus for me. Me.n.u is stunning. The store shimmers in pink with an oversized pink desk, a large flatscreen TV, photos of tweens modeling merchandise, a silver mosaic wall, and dressing rooms with antique-looking silver mirrors and pink velvet curtains which gives your "trying on time" a girly and glamorous feel. I'm all about the shopping experience, and you definitely get one while at me.n.u.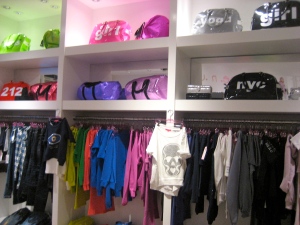 While I was at the store, I munched on delicious chocolate and vanilla cupcakes with vanilla frosting and pink pearl-looking drops on top, a variety of Valentines Day candy, and sipped on pink-lemonade.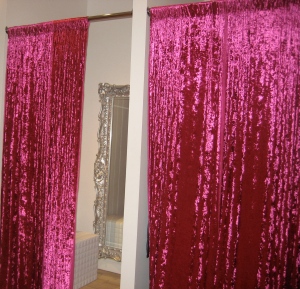 The store is most definitely worth shopping in, whether buying for yourself or a present for others. The prices of merchandise in the store, with the exception of the high-end jewelry- runs from $15-$200. By the way, if you're wondering where the name me.n.u came from, it is based on how girls text which is in improper language, and the ability to customize pieces from an actual "menu". Check out me.n.u at 1042 Lexington Avenue: it's a store you don't want to miss.