The day that all football fans have been waiting for is here: Super Bowl Sunday. We've watched months of games to see which two teams would play in the Super Bowl, and I am excited to say that one team that I have been rooting for all along, The Steelers, will be playing against the Green Bay Packers. Lots of my family and friends will be cheering on their team of choice at the Cow Boys Stadium in Arlington, Texas while others, like me, will be watching from NYC.
Everyone watches and celebrates the Super Bowl in a different way. Some watch the game live, others go to a bar and get sloppy drunk, some attend ravishing parties, and others do something at home. My family usually has Super Bowl parties, but this year they are out of town, so I'll be watching here at home. One of my favorite parts of Super Bowl Sunday is the food. I'm not a big hamburger and fries type of a girl, but today is an exception. There's something about a good old hamburger from popular J.G. Mellon's or EJ's in NYC with a milkshake for watching the game.

My other favorite parts about Super Bowl Sunday are the commercials -I actually hate commericals but the ones during the Super Bowl are actually quite funny- and of course halftime. This year, the Black Eyed Peas will be performing during halftime, and I am so excited. No more Janet Jackson and her wardrobe malfunction, no more oldies like The Who, but the B.E.P: a cool, fun, and lively hip-hop group.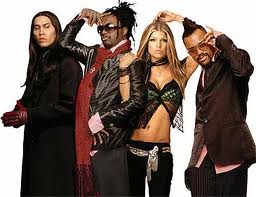 No matter where you watch the game, you want to be fashionable, somewhat casual, but still have some hints of glamour. Most like to wear shirts supporting their team of choice, and I think that's fine for the Superbowl, just make it fashionable with other pieces and accessories. If you are a Steelers fan, here's what I suggest. The Steeler colors are red, black, white, blue, and yellow. Don't wear all of these colors -you'll look like a walking rainbow- but choose a few. I suggest black and yellow. Wear this Pittsburgh Steelers yellow and black Junk Food t-shirt with black leggings, black lace-up leather boots, a yellow wristlet or clutch, a black cocktail ring, black/yellow combo sunglasses, and a leather jacket.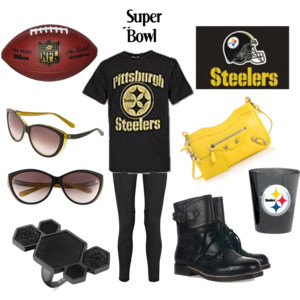 If you're a Packers fan, it's all about wearing green. Wear a Packers v-neck t-shirt, blue skinny jeans, dusty brown lace up boots, a blue, brown, white, and green combo tote, brown sunglasses, rusty-gold studs, a green and gold cocktail ring, and a leather jacket. Although yellow is one of the team colors, you don't want to overdue the green-yellow combo: the shirt combination is enough.
Catch the game on Fox at 6:30pm to see who will win the 2011 Super Bowl. (Go Steelers!)