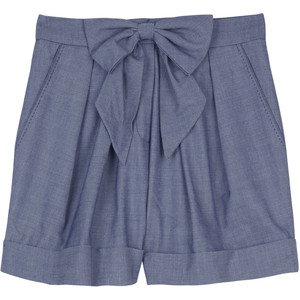 Denim shorts are great to keep in your closet throughout all seasons. A few years ago, it might have seemed silly to wear shorts in the colder months, but now it has become a trend. This is not to say that you should go out bare-legged in freezing cold temperatures, but this is to say that you should wear tights underneath.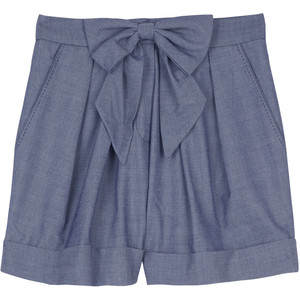 We love denim shorts for the ability to pair them up with anything from a tank top to a dressy blouse, and just how overall easy they are to put on. Some take the casual approach while fashioning denim shorts, but I like to take a dressier one, especially in the months where wearing tights underneath them is most certainly necessary. Dress up your denim-short looks by not only wearing a fancier top, shoe, etc, but wearing a dressier denim short itself.
Paul & Joe Sister recently came out with a great pair of Roman Blue Denim Bow Shorts that are dressy enough to wear comfortably from day to night. The shorts are extremely on trend for Spring and Summer, and have a girly and fashionable look.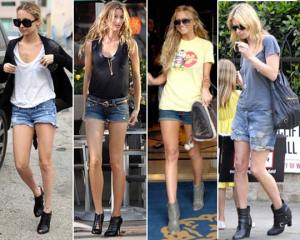 A "standard" outfit for these shorts during all seasons is the following: black tights, a black tight short-sleeve shirt tucked in to fully show the bow, black leather flats for day and black leather pumps for night, clear-looking sunglasses, gray and clear stone earrings, a silver and clear-stone ring, a leather jacket, and a black shoulder bag with silver hardware. Apply blue and silver eyeshadow to bring out the colors of your shorts and accessories.
The shorts are a bit pricey, $193, but they will become a year-round basic and will look great for many occasions. The adorable Paul & Joe Sister shorts are available on My-Wardrobe.com