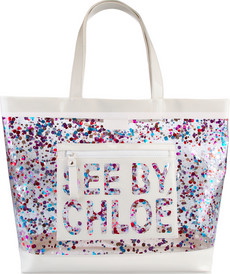 On a cold day like today, with weather reports of an upcoming snow storm, a warm getaway sounds like the ultimate plan. Unfortunately, that isn't in my agenda for this week, but there is no reason why I can't fantasize about it. I will be going to Miami in a couple of weeks for Presidents Day Weekend, so I guess I have some excuse for browsing the warm weather collections in stores and online.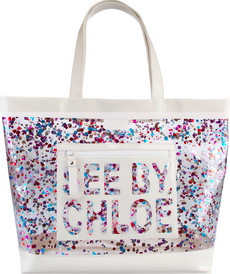 One item that I always pack with me when going away to Miami is a beach bag. When I go away on mini getaways, I try and do things that I normally don't have time to do at home like read a book for leisure, catch up on magazines, fall asleep to music, etc. I usually spend the majority of my time on a lounge chair by the beach or the pool, so I like to have all of my things in one place: the beach bag. Beach bags tend to get messed up easily: I've gone through everything from those Tory Burch totes that were a "must-have" a few years ago to using one of my larger purses and pretending it was meant for the beach. I have finally learned that the best type of bag to use as your beach bag is a patent-leather tote.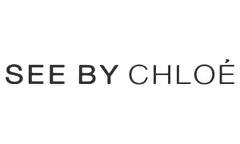 See By Chloe recently came out with an adorable patent-leather tote that will be perfect for your upcoming weekend getaway since it is spacious yet light-weight. Not only will the tote be useful and trendy to bring to the beach, but it will also be an easy bag to carry when walking around, grabbing a bite to eat, etc. I love the fact that the tote is splashed with colorful and fun sequins -blue, purple, pink, etc- because a bright and colorful purse can truly make a simple beach outfit more fun and exciting.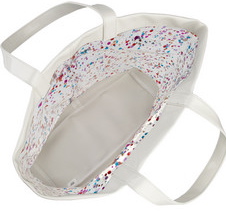 If you're going to relax in the sun, wear this tote with a bathing suit in one of the colors of the sequins: I think turquoise blue or a light purple would look great. Keep it simple with white flip-flops, a white fedora, and a white coverup for sun protection. If you're going to wear this tote out to shop, lunch, etc, wear it with a pair of flowing and light-weight blue shorts, a white v-neck, white gladiator-esq flat sandals with silver embellishment, white sunglasses, a metallic bronze fedora, a bronze and crystal ring, and diamond/crystal-looking studs.
The tote is available on Net-a-Porter.com for $225.