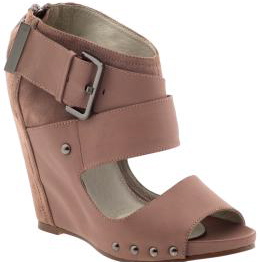 Puddles, puddles, and more puddles are what's left on the streets in NYC after a big snow storm like the one yesterday. I stuck with my plan and got a pedicure, and ended up having to walk home. I didn't dry my nails, so I couldn't put on my boots, and I ended up walking home in flip flops. I cannot describe how many looks I received, and the expressions on peoples faces: I thought it was quite funny. At this point, I am so tired of always wearing boots, it's enough already!: Hunter Boots, knee-high boots, booties, you name it. Love them, but I need a break.
The day the streets get less puddly, I will be putting on a fabulous pair of shoes. I found a shoe while browsing Rachel Zoe's Picks on Piperlime.com, which is more for Spring, that has grabbed my attention, and will definitely be a new addition to my shoe closet: Medea's Mea Shadow shoe. The Mea Shadow shoe is a Spring must (boy does Spring and all that the season comes with like the gorgeous flowers sound great right now). The shoe is a high-heeled wedge, which will look great with anything from a Spring short, skirt, pants, or dress. Each season requires a new shoe, because there is always a new hot color, style, and brand.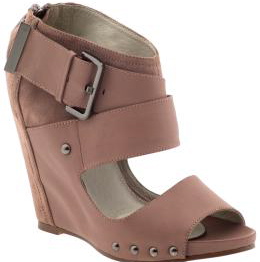 The Mea Shadow shoe has a girly vibe with its dusty rose color, but a drop of spunk and edge with the embellished silver studs and the buckle detail. I envision this shoe with a pair of blue skinny jeans, a sleeveless sequin tank in shades of pink and purple, a black boyfriend blazer, a black with silver hardware cross-body, a rose-gold and white combo watch, a rose gold and crystal ring, and light pink and nude eye-shadow for a fresh look.
The shoe is available for $190 on Piperlime.com, and is definitely a chic pick if it was on Rachel Zoe's list.