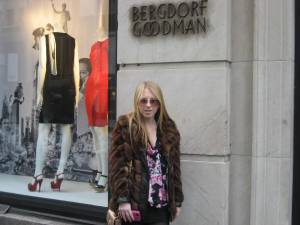 My birthday is just a few days away, February 2nd, and today I celebrated by having a birthday luncheon with my closest friends, and my amazing mom. I always have dinner parties for my birthday, but this year I thought I should do something different, so a luncheon came to mind. I held my party at my most favorite restaurant to lunch at, and my favorite store, BG at Bergdorf Goodman, which looks over Fifth Avenue. The restaurant is gorgeous and girly with its elegant atmosphere: furniture in white, yellow, and a similar blue to Tiffany's (jewelry brand) signature color. BG was the perfect place to have my party at because I love fashion and great food.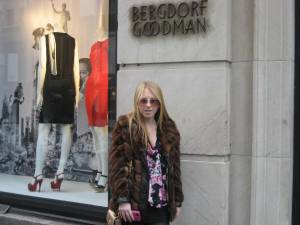 Having a big party is great, but celebrating with just your closest friends is even better: Sunny, Nicole, Abby, Clio, Madeleine, and Brooke. When seated, each girl's place- setting had a customized "Sydney Menu" with my most favorite foods from the regular BG menu to choose from: everyone had a pomegranate-sparkling drink and roasted butternut squash soup to start, but then everyone got to choose their own entree – Gotham Salad, Seared Ahi Tuna Salad, or Croque Monsieur sandwich. As the majority of us ordered the signature Gotham Salad, my friends and I noticed that we each had our own variation of the salad we all love: some of us didn't want bacon, others didn't want beets, and others wanted dressing on the side. Our waiter, Travis, must have thought we were insane, but that's New York for you.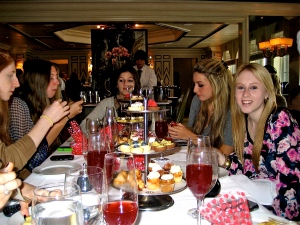 Following our entree were two huge platters full of an assortment of petite sweets that were delicious: blueberry passion fruit tarts, macaroons, chocolate cupcakes, poppy seed cupcakes, chocolate raspberry tarts, coffee tarts, lemon tarts, and of course a red velvet cupcake, which was the petite sweet that I got to make my birthday wish on, although it looks like I'm blowing out a cake full of hundreds of candles. Also on the table were two little goodies for my friends to leave with: a bag full of Valentines Day candy, and mango-kiwi soap. My friends know me so well: for my birthday, they got me a gift certificate to the famous John Barrett salon at Bergdorfs to get a blowout, manicure, and pedicure. So sweet of them, and the perfect gift!
Not only did I love my party and the gift that I recieved from my friends, but I also loved what I was wearing. I wore a Wink NYC floral blouse in black, white, pink and blue with a short black mini skirt and tights, black suede booties with a little bow, a rose-gold Tory Buch cross-body, a rose crystal cuff, rose-gold Ray Bans, and my vintage fur coat. I had a great day today, and I'm so happy that I got to spend my ideal fashionable birthday lunch with the friends that mean most to me.