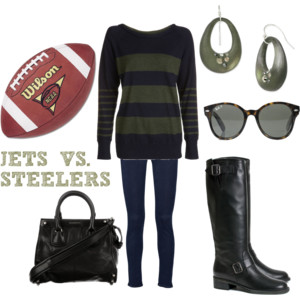 The day has finally come: The Jets vs The Steelers football game. I've had a hard time deciding who I'm going to root for because my family is from Pittsburgh yet I'm from, and live, in NYC. I finally decided that I am going to root for The Jets while my family roots for the Steelers. The majority of my family and friends are going to be freezing in 7 degree (which is supposed to feel like -1 degrees) weather at the football stadium in Pittsburgh to watch the game live while I'll be watching from home. People will be rooting for the Jets in NYC anywhere from home, a bar, to a glamorous party – have you heard about movie producer Harvey Weinstein's party in Page Six? NYC is definitely one of a kind.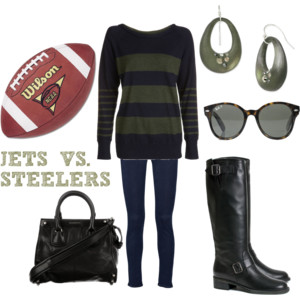 No matter where you root for the Steelers or The Jets, it's freezing out, so you should dress warmly and in spirit. People get really into dressing for these games, and quite frankly I've seen people wear insane outfits: Joan Rivers from the Fashion Police would most definitely "arrest" them. I've seen t-shirt's of the teams embellished or cut up, faces painted in the color of the team, hats, plus more. If you want to take a fashionable approach, here's what I suggest you wear.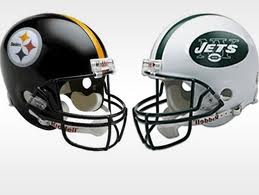 For a fun, warm, and root-by-color- outfit, a casual yet chic sweater is a great option. Going to a football game, or a casual party, doesn't require high-heels, tons of jewelry, and glitzy attire. It's about simplicity and an effortlessly chic look. Rag & Bone recently came out with a simple yet chic pullover sweater that is perfect for today's festivities. The sweater is stripped (stripes are a big trend) with a combination of navy-blue and green. I like the sweater because it's a little baggy which is needed when you're going to be watching a game for a long time, and probably munching on food. Pair the sweater up with blue skinny jeans, black rider-looking boots with silver hardware, and accessorize with a black tote with silver hardware, Ray Ban tortoise sunglasses, and a green earring embellished with just a few sequins for a drop of glamour.
The Rag & Bone sweater is available on Barneys.com for $210. So put on an easy yet chic outfit for todays event, and keep warm with some hand-warmers and a big cup of hot chocolate. I can already tell that today is going to be a crazy day: let the best team win.