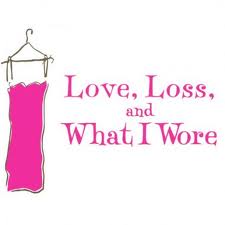 Sorry for my late post – I've been out and about in the city all day. My Saturday started off with breakfast at Balthazar where I nibbled on my favorite chocolate bread, fruit salad, and a cappuccino. Although I love to eat, shop, and walk around downtown, I get so confused every time I'm in the "cool neighborhood" of the city, but that's okay because I love exploring. I made it to my "landmarks" like Topshop where I found four great pieces- a white and navy blue stripped sweater with gold trim, a Winter-white boyfriend blazer, a black coat with a cheetah collar, and a sleeveless mint green top embellished with gorgeous gray sequins- and the Soho Bloomingdales where I just picked up a refill of my Frou MAC lipstick.
After looking around in a few other stores like Rag and Bone, Curve, and Philip Lim, I made my way uptown to see an off-broadway show called Love, Loss, and What I Wore. The show, which is based after a book, uses clothing, accessories, and memories to tell stories (in monologue form) that all women can relate to. Here are some examples: feeling that black looks the best on you, purposely showing your bra strap, being embarrassed by the outfit your mom bought you for your birthday, carrying your life in your purse, choosing fashion over pain like when wearing uncomfortable heels, not being able to wear white before Memorial Day and after Labor Day, and the excuses of something not looking right when trying things on in the fitting room such as something being wrong with the light, the mirror being too narrow, the dress not fitting because it's a certain time of the month, etc.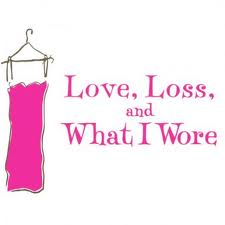 The stories were extremely funny, and they couldn't have been told with such humor and enthusiasm without the cast: Alexis Bledel, Nikki Blonsky, Judy Gold, and Pauletta Pearson. I was excited to see Alexis Bledel and Nikki Blonsky because Alexis starred in Gilmore Girls and The Sisterhood Of The Traveling Pants and Nikki was in Hairspray, the movie. Overall, the show was funny, cute, and fashionable.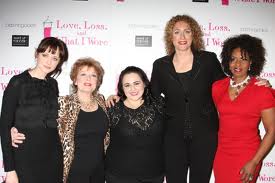 After the show, I went for a bite to eat at Todd English's food bar at the Plaza Hotel where you can choose anything from dumplings, pizzas, cheese platters, to fish, plus so much more. Each type of food has their own station, and you can sit in front of any station on high tables and chairs where you watch the chefs cook your meal. It's a great place to go when you don't know exactly what you feel like since there is a huge variety.
That's all for my Saturday for now, and get ready for a Jets/Steelers inspired look tomorrow.