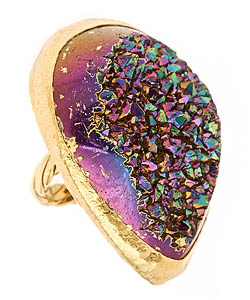 A disco ball is full of color, shine, and excitement. When I wear a ring, I like it to resemble those disco ball qualities, and of course have a unique and cool look. It's always easy to wear your classic solid gold and silver rings, but how about wearing one with a twist? Some of my favorite rings that I spot while shopping or reading a fashion magazine are ones with stones. Hard to find, and sometimes pricey, stone rings are great pieces to have in your ring collection.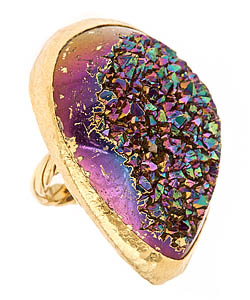 Dara Ettinger Heather, a jewelry designer, recently came out with a striking "Disco Ball" ring that is simply stunning. On the ring is an oval shaped pendant that features a large (gorgeous) agate stone which rests in a gold plate for a defining look. The agate stone chunk is presented in a wide range of beautiful colors -blue, green, gold, purple, plus more- which is why the ring resembles a disco ball.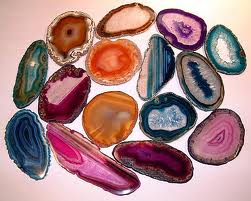 Because the ring is such a statement-piece, you want to make sure that your outfit doesn't outshine what should be glam factor: the ring. Accomplish this by keeping it simple yet chic. An outfit that will look great with the ring and will transform perfectly from day to night is this: black leggings, an olive/gold long-sleeved blouse, a sparkly gold pump (if it's too cold out, wear a black platform bootie), and a black envelope clutch which is big enough for the majority of your necessities, so don't worry. Keep the jewelry simple by only wearing the ring, and put on some eyeshadow in a color, such as deep purple, that is a noticeable shade on the ring.
The ring is available on MaxandChloe.com for a reasonable $120. Check it out, and have a great Friday!