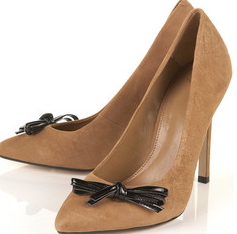 Tomorrow is Friday and I am so excited. Goodbye flats and hello heels. No more dressing in your work and school outfits, but your weekend fun attire. I kick off the start to my weekend with a great outfit that requires a pump. Black is usually the color of my go-to pump, but lately nude/camel has been grabbing my attention and looking even better with my wardrobe. There are still those times when a hint of black is required, so how about a combination of the two?
Do you have a go-to pump? If so, it's most likely black. Nude/camel shoes are extremely popular right now with designers such as Christian Louboutin, who is the best of the best. If you're short, like me, and like to wear heels, black pumps make it more obvious that you're not naturally that height because they draw the attention to the shoe instead of your overall look. However, when you wear a nude or camel pump, it is more settle and not so overly chunky looking.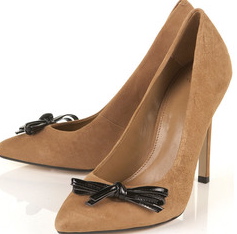 Topshop just came out with a great pump that will fulfill your need of a black and nude/camel shoe. The pump is called the "Glitz Camel Suede Bow Point Court Shoe" and is a classic yet fun addition to have in your shoe closet. The shoe is in suede with a pointed-toe topped off with an adorable black patent-leather bow. The shoe can either be dressed up or down. For the day, put on a pair of black leggings or skinny black jeans, a black blouse, a statement earring, black and gold stacked rings, a nude tote, and the shoes for a fun yet classic look. For the evening, keep the top half of your outfit and change the bottom by putting on a black skirt with black tights and a nude clutch. For makeup, give yourself a smokey eye with a hint of gold to brighten you up.
The pumps are adorable and are perfect for the Winter: check them out for $125 on Topshop.com