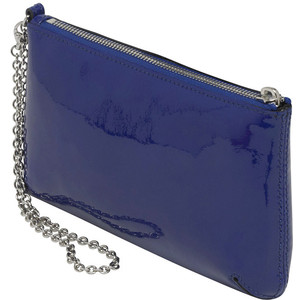 Saying that NYC is wet today is an understatement: NYC is drenched. Not only is it rainy and cold, but it's icy too; a wintery mix. Thank goodness for my Hunter Boots, because without them I think I would be sliding down the streets (life saviors). Hopefully the rain will stop shortly, and window shopping will be much easier without everyone's umbrellas being popped open and shut close while walking through the streets. Until then, my online window shopping awaits.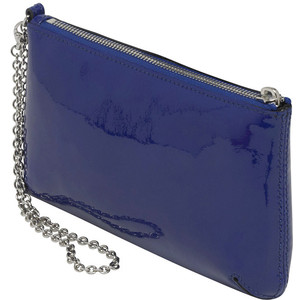 As I've always said, good things come in small packages. If you're obsessed with a certain designer whose prices are expensive but have smaller items that are more affordable, I say go for it. Mulberry is a handbag line that I've been obsessed with since the moment I've spotted there handbags. I love everything from Mulberry hobos, totes, and even small pouches. If you want a Mulberry handbag that is more reasonably priced than the usual and is chic, this small package will be perfect for you.
Mulberry recently came out with an "Electric Blue Drummed Patent" pouch/wristlet that is perfect for anything from a cool pair of jeans to a sexy cocktail dress. You don't always have to carry that big hobo bag, so try something smaller, and new. This Mulberry "small package" is known as the Charlie bag and can be used as a clutch when dressing up. It is the perfectly sized pouch for the essentials (as said on the Mulberry website). Don't worry about fitting in your keys, money, phone, lipgloss, and eyeliner into this adorable "Charlie", but don't think that you will be able to fit in much more.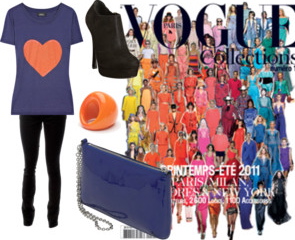 If you get tired of holding the bag in your hand, there is -conveniently- a silver chain strap so you can wear it as a wristlet. Wear the bag as a wristlet during the day: it will look adorable with a blue t-shirt with a pop of color (like orange), black skinny jeans, black suede booties, and a orange ring to bring out the color from the t-shirt. Wear the bag as a clutch during the evening with a flirty black dress, black patent-leather pumps, and silver hoops. Bring in the blue from the bag by applying blue Dior Show Waterproof mascara like Katy Perry.
Originally sold for $275, this electric blue bag is now available for $199 on Mulberry.com