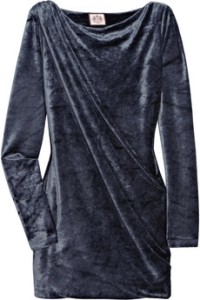 I've noticed a change in temperature this month, and let me tell you a drastic one. I'm one of those girls that would rather wear an adorable outfit and be freezing in it than not wear it at all. However, it comes to a point each Winter when I start to realize how unpractical it is, and that time has come now.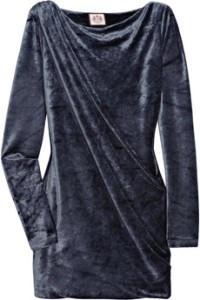 Dresses are one of my favorite pieces to have in my closet because I can dress them up or down with accessories, and not have to fully change. Winter dresses can sometimes be uncomfortable because the fabric is usually heavy and thick. When I purchase a Winter dress, I like to buy one with soft yet warm fabric in a darker color with a cool look. A perfect fabric to have a dress in your closet is velvet, or velour (resembles velvet), because it is heavy yet won't suffocate you like a Herve Leger. Juicy Couture has recently come out with a dress that is perfect for this season.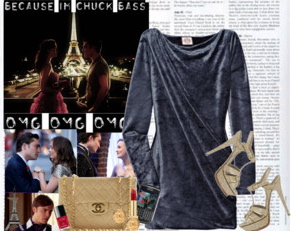 Juicy Couture's "draped velour mini dress" is a great piece to have in your closet for 2011. The color is pretty and flattering -a thunderstorm-looking navy blue- and has great structure with its opulent finish. It's important to have dresses that allow you to wear them from day to night because you don't want to 1. have to change again and 2. have to purchase more dresses than you need. For day, put on a pair of black tights, flat black ankle booties with silver hardware, a black leather cross-body, a silver cocktail ring, silver studs, a smokey eye, and a fur or feux-fur vest. For night, do a miner accessory change by bringing in some gold tones. Take off the tights, but on gold heels -a platform peep toe so it's a compromise between a pump and a sandal-, a gold clutch, gold studs, a gold cocktail ring, red lipstick, and a black or navy blue jacket.

There are so many ways you can accessorize this dress, and I only listed a few. Be experimental: try new makeup techniques, walk on new heights with great platforms, and try new overall looks that you might not have tried in 2010. Fashion is a dress-up a game, one that is always fun to play, and there is not just one way to play it right.
The dress is $200 and is available on net-a-porter.com. Check it out.