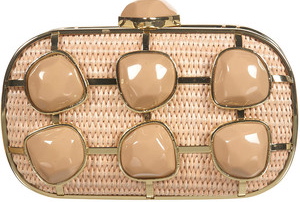 Going out for an evening of fun is the time to let go, and to not worry about your purse weighing you down. I'm one of those girls that carries a lot in my purse: my blackberry (which is actually more so in my hand than in my purse), my Prada wallet, my keys, my Tory Burch makeup bag, my mini hairbrush, and my reporter's notebook. During the day, I like to carry a light tote that has the ability to hold all of my necessities without giving me a sore neck the moment I put it down. When going out at night, I like to carry a small purse, so I narrow down what I'm going to bring with me. It might be hard to leave out that extra lipgloss, but sometimes you have to take it, or leave it.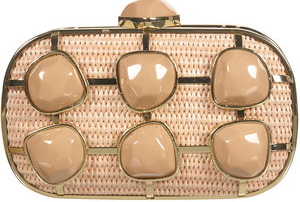 No matter what shape, color, or size bag I carry, it has to be fashionable and cool. A fun, small-sized (yet not too small), neutral, yet statement-making purse, is the kind of purse I like to have in my closet for an effortless evening. Topshop just came out with a "Straw Box Oversized Stone Bag" that is perfect for a casual or dressy evening. You may think that you can only wear straw in the summer, but that's not true. This purse is dressed up with adorable and chunky stones that makes it less casual, and gives it a dressier look. The purse is in a neutral color -peach-, so it will definitely work with lots of your outfits. The bag comes with a removable gold chain strap, so you can use the bag as a clutch until your hand gets tired, and then turn it into a cross body for easy and fashionable usage. Since the bag is smaller than your usual everyday bag, figure out your necessities before leaving for your evening of fun. You don't need everything for one night.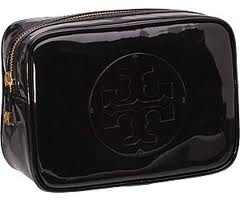 If you're going for a casual look, put on a pair of black jeans with a loose black blouse, either a black boyfriend blazer or leather jacket, a peach cocktail ring, black platform pumps, a few gold bangles, and the purse. If you're plans require you to be dressy, put on a short and flirty black cocktail dress with sheer black tights, a black fur or feux-fur vest, black platform pumps, a peach/diamond-looking hanging earring, and the purse. Keeping your outfit darker will make your jewelry and purse be the center of attention which are the most glamorous and fun parts of the outfit.
The purse is available for $80 on Topshop.com. Check it out.