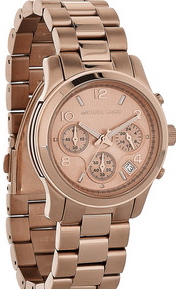 Oh being back in New York: street meat filling the air, people rushing every direction, the NY Post waiting on my doorstep, and Madison Avenue looking better than ever after that horrendous blizzard. I do miss being in Palm Beach, but there's no place like New York. Not only have the past couple of years flown by -I can't believe it's 2011- but the trends have moved on too. It used to be where the most glamorous watches were only the ones decked out in diamonds. Now, rose-gold has come around and is the chicest color to have in your jewelry box.
Every year, I like to invest in something special: be it a purse, shoe, or jewelry -just to name a few. This year, I've been looking at watches because they have great longevity and are glamorous yet still a necessity. For about 5 years, I've lived in my Bvlgari watch which I wear everyday for all occasions, but now i'm looking for a change. If you're looking to invest in something new for 2011, a watch is a good solution. You don't need to purchase a big brand name with crazy prices to get that chic rose-gold look, but you can use a more expensive brand as a guide to finding that perfect Style Solution for you.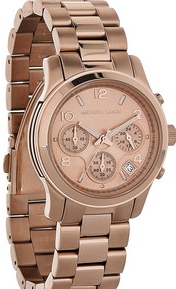 Michael Kors just came out with a stunning rose gold-plated stainless steel watch that follows the trends and will be perfect for 2011. The watch has a rose gold dial and face in addition to a rose gold-plated bracelet strap with three su-dials, date function, and a designer-stamped push clasp to fasten to the wrist. The watch has the perfect combination of glamorous femininity yet with a masculine look -which I love- due to the shape: men watches, or men-looking watches have a sexy look. This watch is perfect for the girl who is always on the go and is looking to make that fashion-forward statement. The watch will look great with your everyday city wardrobe, and it will also work with the majority of your evening outfits too. You might not think that rose-gold can go with everything, but it really can.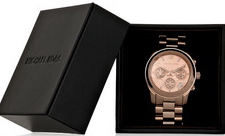 For working or running around the city, wear this trendy watch with black leggings, a deep-V black cami, a military-shoulder gray crisp boyfriend blazer, and high-heel black booties for the ultimate look. For accessories, put on some diamond or diamond-looking studs, a rose-gold cocktail ring, and a black hobo bag for your daily necessities. For evening, dress the watch up with a black cocktail dress, a black fur or fur-looking coat, rose-gold hanging earrings, black platform pumps like the ones from Elizabeth and James, and a black clutch: you can look simple yet sexy by toning it down sometimes- Carrie Bradshaw did every now and then.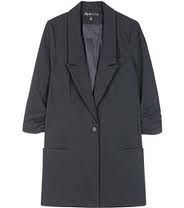 The watch is reasonably priced -especially if you compare it to lets say a Rolex- and is available for $250. The watch will most definitely look great with your 2011 looks, and will give your jewelry collection a fresh and new addition. It's time to make 2011 a great year, and it's also time to invest in a great watch.