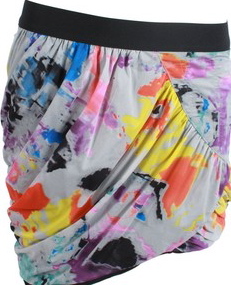 I'm going back to NYC this afternoon: here comes cold weather, lots of work, and wearing my Hunter Boots instead of my Jack Rogers sandals. Every vacation eventually comes to an end, but I'm not ready to go just yet. However, NYC is my favorite place in the world, -and home- so it's always nice to be there. I want to wrap up this week of resort posts with a skirt that will look great for your final day of vacation and will still work when you get back home.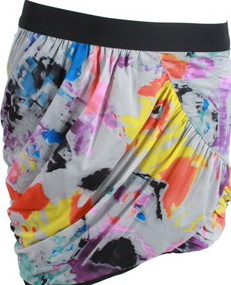 Manning Cartell just came out with a fabulous "Techno Peacock Mini Skirt" that screams color, fun, and glamour. Adding a touch of color and pattern can make the world of a difference to not just your outfit, but to your closet, and will brighten you up significantly. I love skirts that have the ability to work for both day and night, and this skirt most certainly does. I love skirts even more that work when I'm out and about in NYC and when I hop on a plane to Palm Beach for a weekend.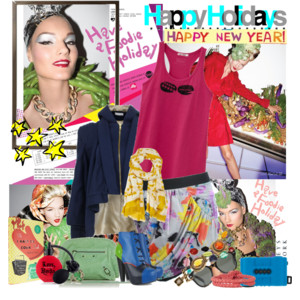 Resort: For daytime in your place of sunshine, pair this skirt with a cami in white or another color on the skirt. Put on a white sweater in case it's chilly, a flat sandal, and a simple shoulder handbag. Don't go too crazy with jewelry: a simple cocktail ring and stud earring will do the trick. For evening, leave the top portion of your body alone, and just change your shoes and purse with a clutch and a strappy black sandal.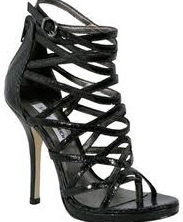 Winter-Home: For daytime in your winter-home, put on a black cami with a black sweater over it, black tights, short booties with a little heal, a black hobo bag, and a leather jacket. You should add more jewelry to this outfit since you're toning down the skirt with lots of black. Put on a statement necklace -clear crystals-, stud earrings, and a cocktail ring. For evening, I would leave your lower body alone, and do a miner top change by putting on a tight off the shoulder cami tucked into the skirt for a more sexy look.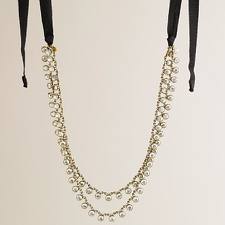 The best part about this skirt? It is on sale. Originally sold for $299, the skirt is now available for $159. There are no returns or exchanges for this item, so make sure you love it before you purchase it. The skirt is available on Frockaholics.com. Live up your last day of vacation in your most fabulous outfit, and get ready to go back to reality.