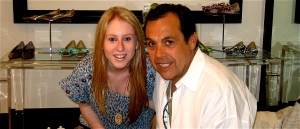 A typical day in Palm Beach is as simple as this: shop on Worth Avenue, and then hit the beach and the pool. As I walked through one of my favorite esplanade's on Worth Avenue, I spotted a store that I have never seen, and I was so pleasantly surprised: it was a Sam Edelman store.
Sam Edelman -the shoe brand that we all love from department stores like Nordstrom and Bloomingdales in addition to private stores- has come to the streets of Palm Beach. Edelman's designs and colors are great, and the prices are very affordable for those of you who are on a budget: $69-$250. This is the first store that Edelman has opened, and it is most definitely impressive. As you walk in the door, you feel as if you're in a shoe wonderland. The store is cool and modern, yet still has a chic and glamorous Palm Beach look. Every resort shoe that your heart desires from the Sam Edelman collection is displayed on shelves and tables for easy shopping like his wife's collection called Libby which defines the Palm Beach look. As Edelman says, Libby is more mature: I think the Libby shoes are sophisticated, elegant, chic, glamorous, and colorful.

As I was in the store, I had the opportunity to interview Sam Edelman for Style Solutions which was very exciting since he is one of my favorite shoe designers. When asking Edelman why he opened a store in Palm Beach, he said, "The idea came to us: we believe in the concept of a luxury brand at an affordable price. Palm Beach is a great approach to different, whimsical, and unique shopping." I then asked Edelman what inspires his designs: "Fashion is a big inspiration. I study furniture, food, trends, and lifestyle: everything.

Edelman's shoes can go from a classic flat sandal to a spiked peep-toe pump called Lorissa. When asking which shoe in Edelman's collection is for the "Sam Edelman girl" and who the Sam Edelman girl is, he said, "The Lorrisa shoe is for the Sam girl. She is the real Sam customer who is usually 19-28. She's tired of wearing the same thing, is influenced by fashion, and knows fashion more than politics." I guess you could call me a Sam girl then.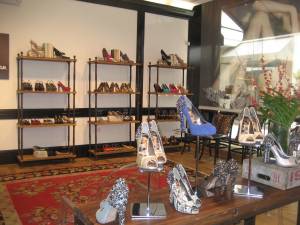 I asked Edelman what the near future holds for him. Edelman said, "brand extensions and accessories." After talking to Edelman -which was such a pleasure- I purchased a sandal that Edelman recommended for me: the Gigi sandal in gold/bronze and orange. Edelman recommended this shoe because it's in the Hermes colors (I love Hermes): he is signing the bottom of my shoes before I head back to NYC tomorrow.

So the next time you're in Palm Beach, check out the Sam Edelman store, and you will have a great shopping experience. If you purchase a pair of his shoes, he'll sign your pair too.