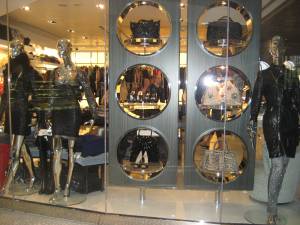 Hello from Palm Beach! I just arrived from Miami, and although I am happy to be here, I miss Miami so much. I was supposed to stay in Miami for three days, but due to the blizzard -which I am happier reading about in the Post than living in it- I could only stay for two days. The people, food, scene, and of course fashion make the Fountainebleu resort the hottest hotel in Miami. Although I was only there for a short amount of time, I am still able to give you a store profile on the resort's most popular store: Ida and Harry.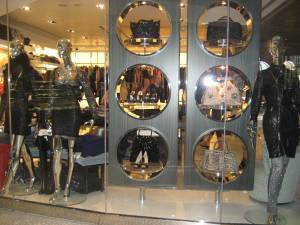 The store named after the owner's grandparents, Ida and Harry is the most glamorous, chic, yet very expensive store at the Fountainebleu. Don't go to Ida and Harry if you are on a budget, but do go if you want a guide to the hottest trends or to just splurge.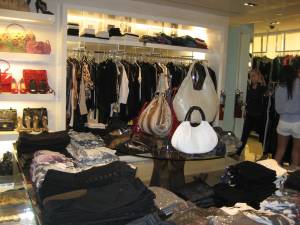 Ida and Harry is full of a variety of Herve Leger dresses in many colors, a wall of clothing full of adorable winter coats, city-girl blazers, RED Valentino pieces, lots of jeans and leggings, LBD's, sweaters, and more. On tables, there are piles of sequin shirts that are to die for by brands such as Halston Heritage. There are also some cool t-shirts that have a vintage look with old time celebs on it like Elvis Presley.
For those of you who love accessories like me, Ida and Harry has a wall full of shoes that differ by color, height, and brand. Also on the wall – in addition to on a table- are purses in different patterns, colors, and designers that will both work for resort and once you get back home. By the register is a case of expensive jewlery that is full of gorgeous pieces, but make sure you really love what you're looking at before purchasing, because the jewelry is pricey.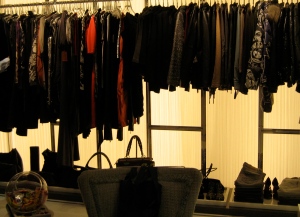 Ida and Harry is a store I like to look in more than to shop in, but I have found great pieces through the years on sale, and I am still a huge fan. Even if you're not going to buy, check out Ida and Harry if you're in Miami because it really is a fun, glamorous, and adorable store to browse in.