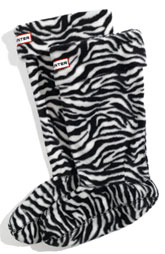 The snow has noticeably arrived in NYC. I love a "White Christmas": the city looks beautiful, hot chocolate and marshmallows are craved, and you don't feel like getting out of bed. Unfortunately, I'm not one to stay home all day, so I was up bright and early and went to Saks Fifth Avenue's day after Christmas sale: it was a madhouse and women went crazy. Instead of fully enjoying this first snow of the season, and most likely last of the year, I'm getting ready to go to Miami tomorrow night which isn't so easy to get ready for when flights have been cancelled all day.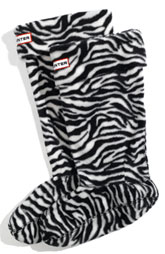 As I prepare to head out to beautiful and hopefully sunny Miami, I had some errands to run so I put on my Hunter Boots. Hunter boots are perfect for snowy weather, but they're not the warmest if you compare them to Uggs. Here's the difference: Hunter Boots are waterproof while Uggs are not yet are so comfortable. To make your Hunter Boot warm and comfortable for your feet, purchasing a Hunter Welly is the best thing to do.
Hunter just recently came out with a Zebra Welly Sock that is perfect for keeping you warm with it's fleece lining, and still making you look fashionable with it's cool pattern. The sock has bold zebra stripes and will go perfectly with whatever color Hunter Boot you have since the pattern is in black and white. I own a pair, and they really do make a difference. The Welly Socks come in multiple colors and patterns, but this one is my favorite.
The socks are $30 on Nordstrom.com, and are a definite fashion necessity during times like this. Put on your hat, gloves, coat, and Hunter Boots with your new Welly Socks because it's cold and snowy outside.