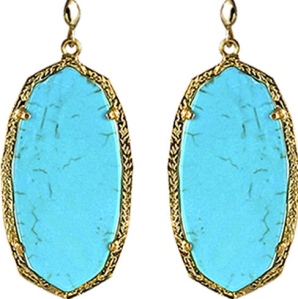 It's time to spice up your holiday wardrobe with a simple yet elegant earring. The excitement of opening a little box can usually be more exciting than opening a big box because the thought of jewelry most definitely comes to mind. Getting a pair of earrings that works with my darker and lighter pieces in my closet is what I most certainly look for when purchasing an earring.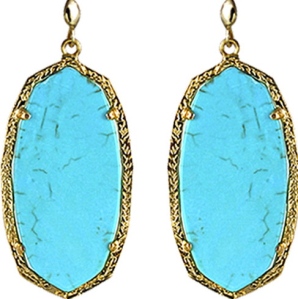 Gift shoppers: because you're buying earrings at a time when your gift recipient may be wearing them in places that require dark and heavy clothing and others bright and light, you should get an earring that works for both. A perfect earring to get is the 'Danielle Turquoise Earring' by Kendra Scott. Scott is a fabulous jewelry designer who comes out with adorable pieces for each season and has great prices. Not only am I obsessed with the 'Danielle' earrings, but Gossip Girl star Michelle Trachtenberg is too.
The 'Danielle' earrings are perfect for a snowy-winter holiday and for a sun-filled holiday. The earrings will look great with a black and/or white outfit. For a "snowy-winter holiday" you could wear the earrings with a black cocktail dress or black pants with a white button down where the earrings are the only pop of color in both outfits. For a "sun-filled holiday" you could wear an all white outfit (white jeans, blouse, dress, etc) and tie in the turquoise earrings with only one other accessory in the same color: shoes, sunglasses, or a handbag.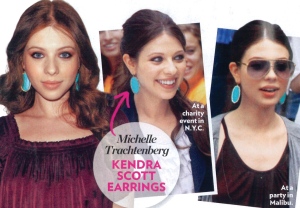 Overall, the earrings are simple yet elegant and will bring that pop of color to whatever outfit you wear with its bright and fun turquoise color. The earrings are $60 and are available on WinkNYC.com