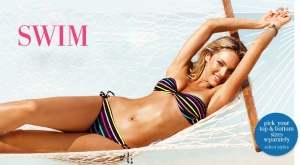 If your gift recipient is going somewhere warm for a holiday vacation, getting her a bathing suit will be a much needed present. Every cruise season, I try on my bathing suits from the previous summer, and some of them just don't look as fresh and new as I would hope. I think it's reasonable to get one new bathing suit for cruise that you know you'll constantly use and fits your body to perfection. It might seem like a challenge, but holiday gift-shoppers can achieve anything.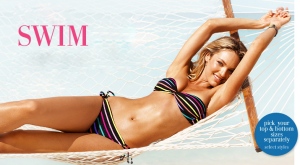 When I purchase a bathing suit, I look for the right brand, fit, color, and pattern. Here's a tip: never buy a solid white bathing suit because white always shows what you don't want others to see. I like to buy bathing suits from companies that make bras and underwear because I know if they'll fit my body or not. A great company that I suggest buying bathing suits from and are very reasonably priced is Victoria's Secret.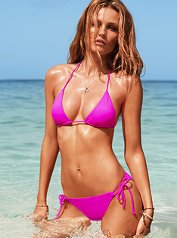 Victoria's Secret just came out with three bathing suits that I love and have great fit, color, and pattern. The first bathing suit (the first centered picture above) is a twist-bandeau top with double string bottom bikini ($24 for top and $16 for bottom). I love the pattern and color: black with stripes of color going through. It also has a removable halter strap. The second bathing suit (which is the second picture) is a 'Sexy Sliding Triangle Top' with a double string bottom ($18 for top and $16 for bottom). This bathing suit comes in various colors, but my favorite is the electric pink: it will look great whether you have a tan or not. The last bathing suit (which is the third picture) is by Kenneth Cole sold at Victoria's Secret. It is a 'Plunge Monokini' ($98) and is draped with total drama. I love the cobalt animal pattern in blue, black, and white: if you want more coverage yet to still look sexy, this is the way to go.
All of these bathing suit options are great, but it's just about finding the one that your gift recipient will like best. Check them out on VictoriasSecret.com