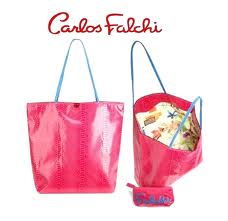 My favorite gift to receive for the holidays is a handbag. I always say that you can never have too many, and I think it's reasonable to get one new purse a year -no matter what the price is- because the bag will look new and fresh. When going away for cruise I really try to stay away from black,(which is extremely difficult because black is the uniform for New Yorkers) so I like to have bright and colorful handbags in my closet which will end up satisfying me more than my every-day black bag.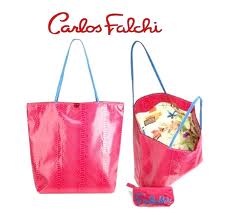 (In photo: Carlos Falchi) Holiday shoppers, here's what to get: a Carlos Falchi Two-Toned Microfiber Tote. Carlos Falchi is one of my favorite handbag designers because his bags are good priced and are always spot on with the trends and colors of the season- he demonstrates these qualities with this tote. The tote is great for travel, long days on the beach, and just walking around with its light-weight material, two-toned color contrast (fuchsia with blue handles) and little cosmetic case that comes with it.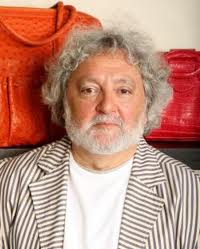 What I also love about this tote is the lining inside. I hate it when the outside of a bag is gorgeous but when you open it the lining is ugly: not with this tote. This tote is lined with a beautiful floral print that gives it a fun and fresh look. When you purchase this tote, don't go overboard with the wrapping. I would put it in a shiny plain white box, and then brighten it up with a combination of blue, pink, and purple ribbon.
The tote is on sale for $154 and will definitely brighten up your gift recipient's day. Check it out on SaksFifthAvenue.com