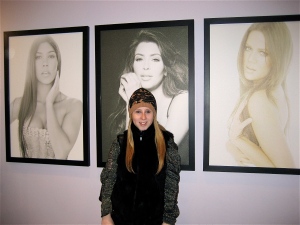 The Upper East Side was a madhouse yesterday. My mom and I were looking forward to a shopping day in the department stores because it was cold outside, but Bloomingdales (who had an iceskating rink made out of plastic which people could "skate" on), Barneys, and Bergdorfs were jammed packed. We decided that it was time to leave our comfort zone and make our way down to Soho on Spring Street: I put on my fur vest, my cheetah Betsy Johnson hat, and we were off.
First, my mom and I went for a cheese platter and Spanish donuts dipped in chocolate sauce at a tapas bar where I spotted socialite and star of CW11's High Society Tinsley Mortimer and boyfriend Brian Mazza, who were seated a table away from us. Then we went into some cool vintage stores where I tried on some Chanel jewelry and fur coats. From there we went to Topshop,-I bought the perfect dress for Miami and Palm Beach: I might even wear it on New Years- then Bloomingdales (the downtown one of course), and finally Dash.
If you're going to a place that involves the Kardashian name, you need to be prepared for a line. Outside the Dash store was a line of about 30 people, yet there were only about 10 people in the store. It was freezing out, so my mom and I kept running into this cute gallery to look at art until the one hour line progressed. When finally being let into the store, I was a bit disappointed: it looked like an Intermix wanna-be. Dash carried all the same brands as everyone else like Alice and Olivia and Torn, so why wait in line for the same old stuff if I don't have to at Intermix? Well, because it's a Kardashian store. I think that the girls should start a mini upscale collection of their own and sell it at the store so it brings some diversity.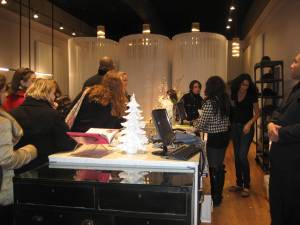 There was some of their own brand in the store like their new book Kardashian Konfidential, water bottles, Kim's perfume, etc. Most of the shoppers didn't want to spend money on merchandise, so the only smart thing the store did was have a bag that you could purchase for $15 which had a Dash water bottle and candle in it. It is said that the store makes $50,000-$100,000 a day, but I don't believe that because the only thing that was being purchased in the store were those $15 bags.
Overall, my "downtown day" was a success: lunch/snack was delicious, the shopping was good, and going into to Dash was worth it.