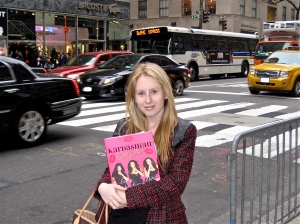 What a day today was! Here was my original plan: get up, go to math class, change my clothes (into my Torn by Ronny Kobo (from Intermix) Chanel-looking jacket), and meet Kim, Khloe, and Kourtney Kardashian. Some of the plan was accomplished while other parts were not, but boy were there exciting add ons that I least expected.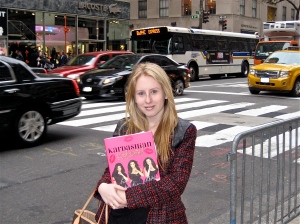 As I walked in the door of my building, I noticed a familiar (gorgeous) face, one that looked so familiar. It was Kevin Zegers, aka Damien, Jenny Humphrey (Taylor Momsen) from Gossip Girl's drug dealer ex-boyfriend. I turned the other way, and there was the majority of the cast (Blake Lively, Kevin Zegers, Leighton Meester, Connor Paola, and my favorite Chace Crawford) shooting for a new episode. I was able to get snapshots of some of the cast while filming.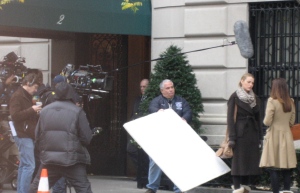 (In photo: Kourtney Kardashian). Although I was tempted to stay at the Gossip Girl filming, I had to run off to the Kardashian book signing for the sister's new book, Kardashian Konfidential, which was my main priority of the day. I've gone to book signings before at this specific Barnes and Nobles location on 46th and 5th (like when I went to the Rihanna one), and every person in line always had the ability to meet the author. I even bought my book in advance, yet after 200 people, no one else was able to meet the Kardashians, one of which was me. Even though it was extremely frustrating that I wouldn't be able to meet the sisters, I was able to see them walk in and take some photos of them (which mostly came out blurry) while meeting one of the millionaires from Millionaire Matchmaker (I will be blogging about him tomorrow). Despite the lack of organization at this book signing, the sisters looked beautiful and I am still Kardashian obsessed and love their book. The book is a walk into their lives and has an amazing chapter called Stylin which talks about each of the girl's advice on how to dress, their must-haves, a dress-to-impress shopping checklist, how to organize your closet, rules of style, and how to strike a pose – it's great. The book is $28.99 and is available at Barnes and Noble.
Today was a hectic yet fun day, and it was so exciting to get a glimpse of the Kardashians and Gossip Girl Cast. Don't forget that tonight is the lighting of the Christmas Tree in Rockefeller Center. Catch the Lighting on NBC tonight at 8:00 PM.