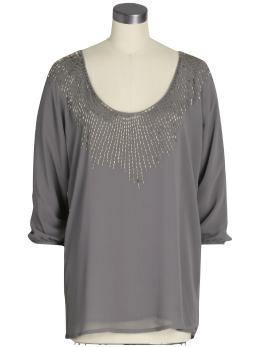 I am off to Canada for Thanksgiving. I will first be in Toronto and then in Montreal, so expect some fashion updates! Before I discuss Canadian fashion later in the week, lets focus on what's going on this week in the United States: Thanksgiving.
A question that I have been hearing lately is, "what do I wear for Thanksgiving?" Here's what I think: you want to be fashionable, comfortable, dressed, and not have to change from day to night. The simplest way to achieve those wants is to wear something that can be dressed down -yet still fashionable- for daytime and will work well into the night by adding shoes and accessories.
I know that I eat a lot on Thanksgiving, so I don't like to wear clothing that will reveal how much I ate. Wearing a blouse with leggings is the perfect outfit because you won't feel tight as your devouring that yummy food.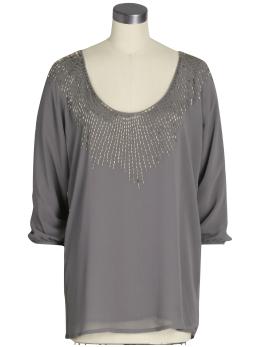 Greylin just came out with an embellished grey blouse. It will look great with a pair of black leggings, black or silver flats for day, and black pumps for night to give it that dressier factor. In terms of accessories, put on a pair of diamond or diamond-looking studs, a chunky silver cocktail ring and a few silver bangles. For your purse, I suggest a black hobo for day and preferably a clutch (in silver or black) for the evening. Top it off with a boyfriend blazer and you'll be set for the day. (In photo: Karl Lagerfeld and models)
The top is $98 and is available on Piperlime.com