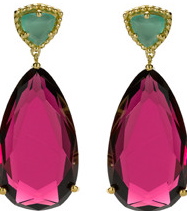 It's time to get that wow earring for the glamorous months of November and December. Earrings are one of my favorite pieces of jewelry because if they are big enough they make a statement and you don't need to wear other jewels like a ring, bracelet, necklace, etc. I love hanging earrings in particular- they are classy, fun, elegant, and chic.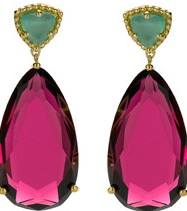 A celebrity who works the statement hanging earring so well is Angelina Jolie. Jolie was spotted at the 2009 Academy Awards fashioning a gorgeous pair of Green Onyx $395 earrings. She looked so amazing in them that stores like my favorite Jennifer Miller still sell these earrings and have them in the front window because of their popularity from Jolie's stunning look. $395 is a lot of money for a pair of earrings, but don't worry because there are alternatives that have the same look but with a little twist.
Jennifer Miller sells a very similar looking earring to the one Jolie wore for a better price – $125. The differences of the two are this pair is white gold plated with faux emerald where the Jolie is real emerald and plated with gold. Who cares if their not real? You're getting the same look for a better price: that's what's most important. *In photo are faux-emerald earrings.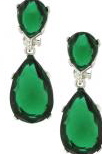 If you want an earring with the same look but with some addition of color and a price in between the Jolie and faux-Jolie earrings, then this Melanie Auld Stella will be perfect for you (the earrings at the top). I'm obsessed with the Stella earring because of the gold/yellow and pink stones. You still have that emerald-looking stone at the top, and the extra stones give it extra glam fun. They are sold on the Max&Chloe website for $165 – I love them.
All of these options will look great no matter which earring and price you chose: they are all equally fabulous and are all statement pieces. There's a happy medium with every shopping experience.