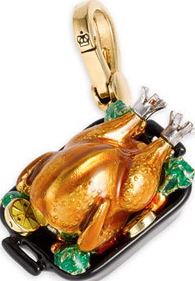 Hi from Toronto and happy Thanksgiving everyone! Today is the day to spend time with family and friends over a delicious meal (whether you're at home or somewhere else like me) and talk about what you're thankful for. I'm thankful for so many things – my family, my friends, my education, the home in which I live in, my pair of Louboutin's (just kidding, well, sort of) and all of my viewers who read my blog each day – just to name a few.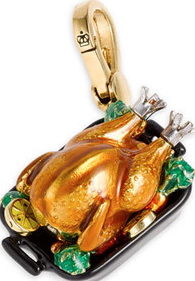 I love Thanksgiving food: stuffing, sweet potatoes with marshmallows, cranberry sauce, mom's chocolate-chip cheese cake mini cupcakes, string beans with toasted almonds, lots more, and of course the turkey with gravy. Not only does my Thanksgiving Day include lots of food, but watching the Thanksgiving Day Parade (I love the floats), the Dog Show (even though I'm not a huge fan of dogs) and Charlie Brown Thanksgiving (you've got to love an old cartoon).

I'm quite the festive person, so why not join the festivities by wearing a Thanksgiving charm on your bracelet? Juicy Couture just came out with a 'Turkey Dinner' charm that looks the way it sounds. The charm has a golden-roasted turkey on a platter with veggies like carrots and broccoli. It might sound weird, but who cares? You're participating in a holiday in a fashionable and funny way.
The charm is even on sale. Originally sold for $52, the charm is now available on the Nordstrom website for $33. Check it out, and have a turkey filled and fashionable Thanksgiving!