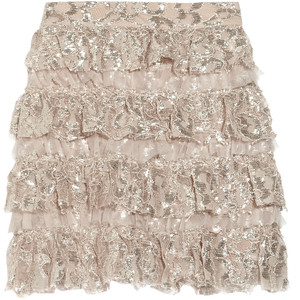 It's too soon to say it's time for the holidays (although deep down you are so excited). You still have to get through school, work, and all of life's demands, but don't worry because Hanukkah and Christmas will be here before you know it. Although it is not time yet, the scents of the holidays are creeping through the air! Not just in Ralph Lauren's windows that are decorated way too early on Madison Avenue (yet they are so pretty), but the influence of holiday season fashion in clothes, shoes, accessories, and more.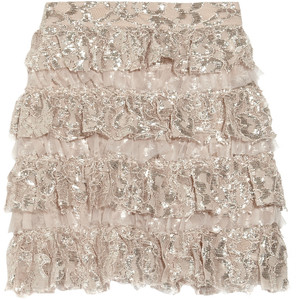 Alice and Olivia just came out with an effortlessly beautiful skirt ('Tiered Lace Skirt') that is perfect for now and the holiday season. Floral, nude lace, and with a metallic silver finish, this skirt is a must. As the holidays start to wind in, you want to look glamorous and chic on those city streets: it's the time to get girly and flirty and feel just as bright and special as those Christmas lights – that's how you'll feel in this skirt.

I love an all nude outfit- especially in the colder months because you look like a breath of fresh air. I see this skirt with this adorable Malene Birger t-shirt that is nude with black sketch-looking bows (it is $130 and is available on net-a-porter.com). You can then pair the skirt and shirt up with some great nude platform heals, a silver clutch, and some sheer tights if it's cold outside. Keep it simple with the jewels- go for pearl or small stud earrings. If you don't feel comfortable in all nude, you can also wear a black tank top and black boyfriend blazer- pair it with black pumps, black tights, same jewelry as with the all nude look, and a black clutch.
The Alice and Olivia skirt is $200. Check it out on Net-a-Porter.com