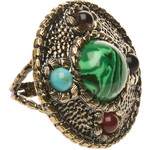 Alexander McQueen (R.I.P) defines fashion. We know McQueen best for his signature skull scarves which come in every color imaginable and are a fashion must (despite how expensive they are). Have you seen them everywhere?! McQueen is also known for provocative fashion shows where the front row is packed with the best celebrities and fashion experts in the world like Rachel Zoe and Camilla Belle ("bananas").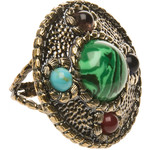 McQueen is the king of bad-ass yet elegant fashion. We lust over his clothes and accessories, but purchasing them is a different story. The prices of his pieces are high like his $600 scarves; however, there are miscellaneous pieces in his collection – whether it be accessories, clothing, or shoes – that are less expensive.
The McQueen collection just came out with a multi-stone ring that is a fun and boho-chic piece to have in your jewelry box. I love this ring because it can make your dark outfits go from drab to fab or can be a settle add on to a more funky outfit.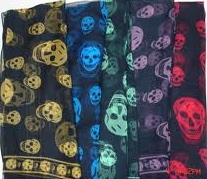 The colors of the stones on the ring (blue, brown, green, red, and black) are great because although there are multiple colors, they are all darker and will blend in nicely. The ring is $160 and can be found on BrownsFashion.com
You don't need to be in head-to-toe designer to look chic. As Alexander McQueen once said, "I think the idea of mixing luxury and mass-market fashion is very modern – wearing head-to-toe designer has become a bit passe. It's a new era in fashion – there are no rules. It's all about the individual and personal style, wearing high-end, low-end, classic labels, and up-and-coming designers all together."