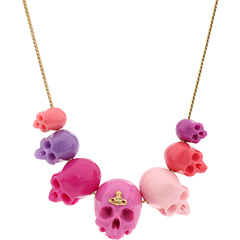 What's better than accessorizing in skulls on Halloween weekend? Skulls are a bit creepy with its eyes, nose, and mouth, but when they're in contrast colors like purple, pink, and red, they look girly and fashionable. Skulls might sound scary, but they don't always need to look scary.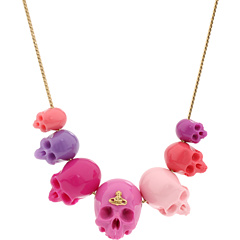 Vivienne Westwood is known for bright, colorful, and "out-there" pieces; whether it be clothing, shoes or accessories. It comes to no surprise that Vivienne transforms a simple skull into one full of color and high fashion. Vivienne just came out with a skull seven-bead big necklace – it's adorable. What I like about this necklace is that you have options- you get to pick out what color chain you would like-; either gold or silver. I personally like the gold.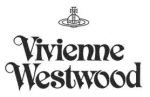 The necklace is chic, cool, and edgy. However, it's pricey. If you want a splurge piece, this one's for you. The necklace is $343 – it's not a must piece, but a lust. If you don't want to spend this much, you can use this as a guide to find skull accessories that are colorful and fashionable.
Check out this necklace on Zappos.com