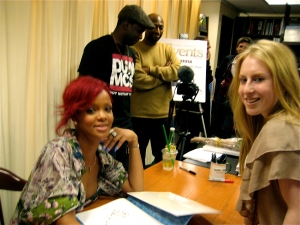 I needed my "Umbrella" today when meeting singer of 'Only Girl (In The World)', Rihanna, at her book signing. Hundreds of fans, including me, stood in line for at least two hours at Barnes and Nobles on 46th and 5th to meet, take pictures, and get a signature from Rihanna: she was fashioning an adorable floral dress. The long line was worth the wait.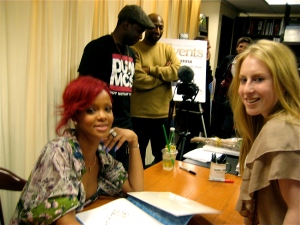 The book, called Rihanna, features 144 "steamy" pictures of her in concert, hanging around, designing, taking photos for her album covers, being chased by paparazzi, eating, and my favorite, a peek of her shoe closet full of Louboutin's and her collection of cuff bracelets. The photography and concept, created by Simon Henwood, is truly amazing and is a perfect coffee table book for those interested in fashion, photography, and are a Rihanna fan.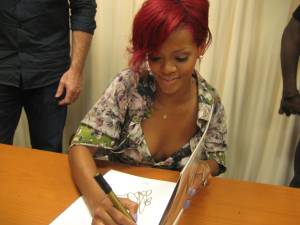 When I met Rihanna, I got to ask her what her favorite fashion trend is this season. She said, and wrote on my signed book, "hair accessories." Although not fashioning any today, she is constantly seen wearing a variety of headbands, hats and more.

It was so fun meeting Rihanna today. She's cool, nice, beautiful, fashionable, and a definite trendsetter.
Rihanna is available at bookstores but can also be found on Amazon.com. Hardcovers are $50 and soft covers are $30.
Get your "Umbrella" out when going to purchase this great book today, because "It's Rainin' "