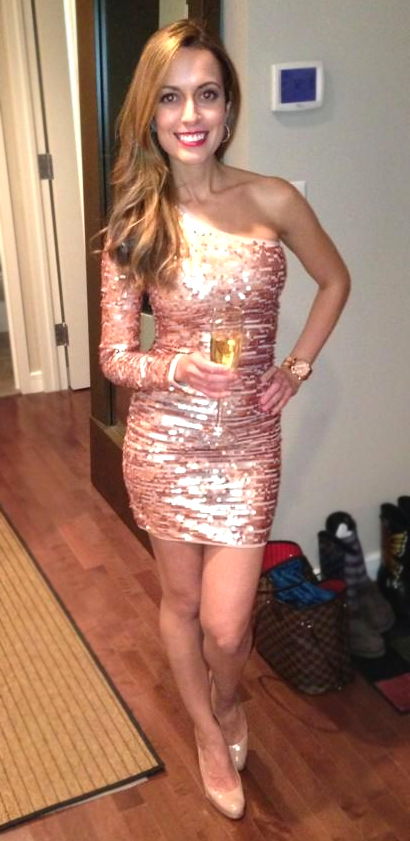 After two weeks of fashionistas around the country sending in pictures via Twitter of their holiday party outfits, we have come to a winner–Jaclyn Santos above! We thank everyone who submitted photos, and below are our top two other looks. Jaclyn will receive a pair of my favorite "Janis" Velvet Eyewear sunglasses. We can't wait to see how she wears them, but until then, let's hear a bit from our stylish winner from New York City.
S: How do you describe your personal style?
J: I am a professional Fine Artist as well as a shoe designer for Jay Adoni and Modern Vice. I obviously love shoes and have quite a collection. I typically wear classic silhouettes and tailored basics, like a great pair of a jeans and a silk top, or a nude or black dress, and pair it with a really nice purse, shoes, and accessories. As an artist, I'm in love with really high quality materials in both my clothing and accessories–soft leathers, silk, unique hardware, etc. I really look for quality.
S: What are your go-to brands?
J: For footwear, Modern Vice makes the most comfortable, hand-made shoes ever. I've been wearing their "Jett Jodhpurs" which have molded to my feet and are so comfy and stylish without trying too hard. Other shoe designers I love are Giuseppe Zanotti, Tory Burch and Christian Louboutin. For evening, I own a lot of Herve Leger and BCBG, which I was wearing in the photo above) and Marc Jacobs. During the day, I love Michael Kors and Topshop, and I'm also obsessed with Lululemon, which transitions easily from work to the gym. I also love wearing my own shoes–I made a limited edition series of hand-painted rain boots with Modern Vice, which are super cool. I also make hand-painted pumps, which I love wearing to events or around the city.
S: What sunglass shape do you believe represents your personality?
J: I love oversized aviators as well as the classic wayfarer. Those two styles best compliment my face shape.
S: What's your style goal for 2013?
J: Lately, I've been really into building up my jewelry collection. I've recently acquired some really nice rose gold pieces from Michael Kors and Tiffany's and would like to acquire a few more rose gold items. I've also found some really nice hand-made statement pieces and I'd like to find more unique accessories this year.
S: Why do you love sunglasses?
J: I love sunglasses because they protect my eyes from damage and help prevent fine lines caused by squinting. Also, I love being able to walk around the city incognito when I'm tired!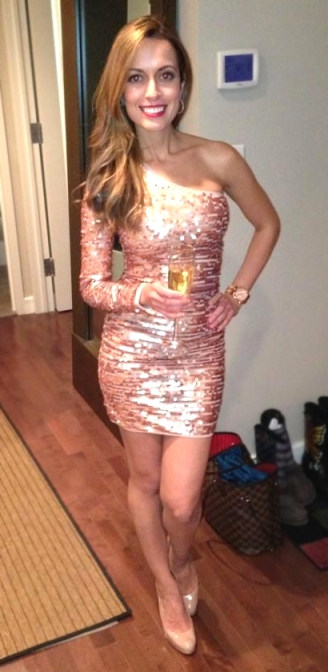 {@GuiltFreeDonut}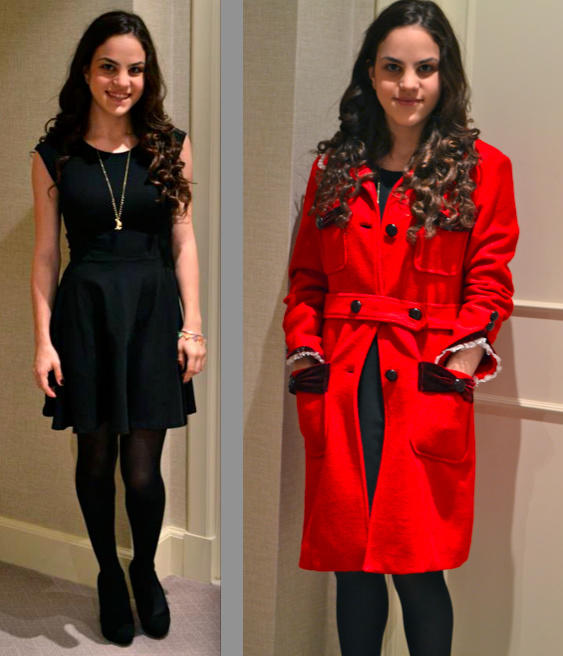 {@ElizLanders}
with style,
S