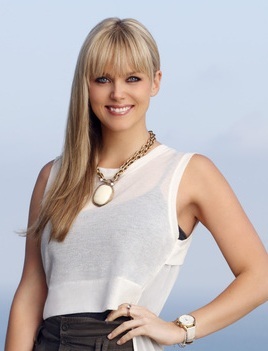 Known and loved by millions of viewers for being on The Bachelor and Bachelor Pad, Rachel Truehart has become a fan favorite. Tonight is the premiere of Season 17 of The Bachelor, so what better timing for this New Yorker to chat about her experience on the show, what she's been up to since then, and more.
S: Were your experiences on Bachelor Pad and The Bachelor different or similar to each other?
R: They were definitely very different! The Bachelor had a lot more downtime, whereas Bachelor Pad was a whirlwind. I don't think we ever slept more than 4 hours at a time; the filming was very intense. But it also felt more like a party. Every night, we were drinking, hanging out in the hot tub, playing games, getting to know each other. You were also living with the person you were dating and not having to compete for their time, so it felt more real than having to interrupt your 'boyfriend' from his 15 other 'girlfriends'. I think Bachelor Pad was just more fun overall.
S: What have you been up to since Bachelor Pad?
R: I returned to the job I had when I left for Bachelor Pad, which was working for Ralph Lauren in the digital agency. I was thrilled they were happy to welcome me back, as I'd only been with them about a month before leaving to film. They even made me promise if I won the money I wouldn't quit–luckily for them that was not a problem.
S: So much talk about roses…what's your favorite flower?
R: Lilies, although I admit I have always loved roses. My parents wedding flower is a rose, as is their wedding song, and naturally they gave my sister and I both the middle name of Rose, so I feel like I'm destined to just be surrounded by roses!
S: What's a fun fact about you?
R: I've been obsessed with Eminem since day 1 of his career. In college, I had dolls of him, had pretty much wallpapered my dorm with posters of him, went to his concerts whenever I could, memorized every song on his album the day it came out, you get the idea. It's more under control now, but I still listen to him all the time.
S: Who's your dream date?
R: Either Marshall Mathers or Ryan Gosling…he's my heartthrob of the moment (me and every other girl in the world!); charming confident, and sexy as hell.
S: What was packing for the shows like, not knowing if you'd still be on each week?
R: Stressful! Packing for Bachelor Pad was a little easier because we at least knew what climate we would be in (LA). For The Bachelor, you had no idea what you needed so you had to pack for every possible climate and scenario as you never knew what the dates would be like. The whole time I was there I kept thinking 'Oh I wish I packed that' or 'I wished I shopped more and brought more dresses' because you always felt like you were running out of the clothes that you had already worn.
S: Are you going to watch The Bachelor tonight?
R: Of course! I actually never watched the show much before going on it, but now that I've been on it I've definitely become a fan. It's so different to watch the show after you've been on it because you know the ins and outs of the behind the scenes stuff. You also relate to the girls and when someone appears 'crazy' you know not to judge because that was probably you at some point!
S: Do you still keep in touch with your cast mates?
R: Most of them actually. I always heard about the 'Bachelor family' and at first it sounded a little weird, but I actually love it. I've grown some amazing friendships and I even keep in touch with some of the producers too. Jaclyn and I have become best friends since our season, and it's hard to imagine my life without her; I still can't believe it's only been a years since I was first on the show!
S: What's up and coming for you?
R: I'm continuing to work at RL and see where that takes me. I'm definitely open to doing more TV though. I know I definitely went through my fair share of heartache and tough lessons I had to learn, especially on Bachelor Pad, but you have to take the bad times with the good and I don't regret it for a second. Overall, I just have really enjoyed my involvement with the shows and would love to continue other things, so we shall see what life brings next!