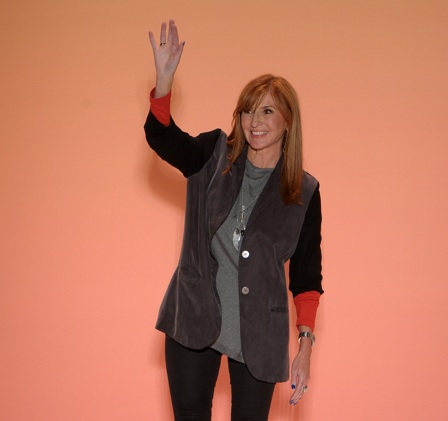 Like all good things that comes to an end, summer is coming to a close, yet we have other things to look forward to like Mercedes-Benz New York Fashion Week. In honor of one of my favorite weeks of the year, indulge in my interview with fashion designer Nicole Miller who chats fall trends, favorite artists, transitioning tips and more.
S: Tell me about how your career started.
N: I studied at the Rhode Island School of Design and at Ecole de la Chambre Syndicale da Haute Couture Parisian in Paris–that's where I got my strong foundation. From there, I interned for a few designers and finally ended up with my current CEO Bud Konheim. This is the only place I have worked!
S: What are some trends highlighted in your fall 2012 and resort 2013 collections?
N: I referenced iconic personalities from the early 70s while designing my Fall collection, updating vintage silhouettes for the modern woman. For resort, I kept with my vintage theme while adding tie-dye to the collection.
S: You design a home furnishing collection for Bed Bath & Beyond. What are some ways that you like to change up your bedroom decor each season?
N: I love home products and mixing elements from my clothing label into the design of home products. I think the easiest way to change up a bedroom is with your bedding–just add a few new colored or textured pillows, and you can have an instant change!
S: I hear you're quite the cook! What was one of your favorite dishes that you made this summer?
N: I love to cook! I'll swing by the Farmer's Market in Sag Harbor on the weekends to pick up fresh clams–my baked clams with chorizo are a big favorite during the summer among family and friends.
S: What's a tip for transitioning from summer to fall?
N: Layer, layer, layer!
S: I learned that you collect art. Who are some of your favorite artists?
N: I prefer contemporary artists such as Ross Bleckner and Ellen Gallagner.
S: You were one of the first to start a less expensive line through a partnership with JCPenney. How is the design process different from your upscale line?
N: It's a little different, mostly because we use different fabrics. I design both lines with the same intention, which is to make women feel confident and beautiful.
S: How do you describe your personal style?
N: I really like to be unexpected, but I also love to play around with contrasting prints and fabric; it really depends on my mood.
S: Your dresses are red carpet staples. Your favorite dress on a celeb, please!
N: The Angelina Jolie dress!
S: What's up and coming for you?
N: We're getting ready for the Spring 2013 show!