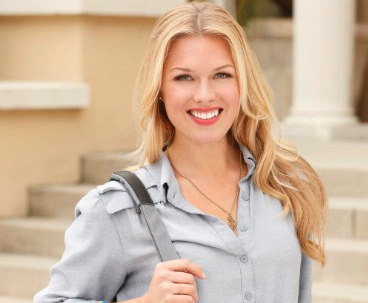 Ever wonder what a day in the life of a nanny is like in the exclusive area of 90210, aka Beverly Hills? Meet Amanda Averill, who currently stars as herself (a high-profile nanny) on ABC Family's new hit reality series Beverly Hills Nannies. Goodnight Moon, baby wipes, extravagant parties and more…tune in!
S: How was moving from small town West Bend, Wisconsin to a big city like Beverly Hills?
A: Exhilarating! Watching movies like "Pretty Woman", "Annie Hall", and "Coming to America" (hysterical) increased my desire to move to a big city after high school and college. "Pretty Woman," however, did not make me want to become a hooker, but it did make me want to walk around Rodeo Drive with huge shopping bags and ridiculous hats! It was a tough move, but I haven't looked back since!
S: Typical day in the life of a Beverly Hills nanny, please!
A: A typical day doesn't exist in Beverly Hills. One moment you're making kids mac and cheese and the next minute you're flying to Mexico for a quick vacation. The schedule is always changing with families in Beverly Hills. I have an overnight bag tucked away in my trunk with all the essentials so I can be ready at the drop of a hat to take a plane to Palm Beach or fly to Colorado for a ski trip. But on those "normal" days, kids are all the same. I help them get ready for school, prepare meals, go over homework, playtime, bath time, dinnertime and bedtime.
S: What are some of your essentials?
A: Baby wipes, more baby wipes, and a huge insulated coffee mug with bottomless coffee.
S: What's your bedtime story?
A: Hands down, Goodnight Moon. I remember reading it when I was a child, and children I nanny for are still enamored by it today. I'm not sure what it is about that book, but it works like a baby sleeping pill if you ask me!
S: What do you wear to work?
A: I have two different wardrobes. On one side of my closet, I have "Nanny Amanda" clothes, and the other side of my closet are "27-year-old Amanda" clothes. Kids are messy, and nannying is an exercise all on its own. My favorite nanny uniform would be yoga pants, a tank top, and a hooded sweatshirt. I get why moms and dads wear their gym clothes all day. Alexander McQueen doesn't go so well with a baby's lunch!
S: What's the most outrageous children's birthday party you've attended?
A: I was at a huge birthday party for a 3 year old in a space off the ocean. There were over 150 guests, and because it's LA and it was a huge outside party, the paparazzi started flocking to the scene. In fact, the party was getting so much chatter, huge porn star Ron Jeremy showed up with three of his ladies thinking he had missed an invite to the biggest party of the year. So all the moms, dads, kids, and Ron Jeremy partied till the wee hours of the morning celebrating a 3 year old's birthday.
S: What's something we don't know about you?
A: I'm a trained singer (I went to college for music and theater), I can speak some Italian, and I can balance almost anything on my head. I do it for the kids!
S: What are you looking to accomplish in the future?
A: Every new experience I am introduced to here in Los Angeles and Beverly Hills are paving the way for my own future and career. I would love to dive further into acting, singing, and hosting. I have recently gotten into the beauty product branding world, and as a girly-girl myself, I have really enjoyed getting to know that industry. Maybe I'll be a singing, perfume testing, power nanny in my near future!
(photo credit: ABC Family)