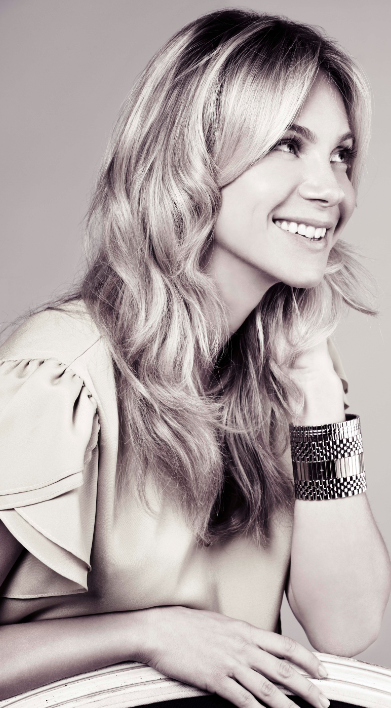 Growing up in the world of fashion design, Joyce Azria became a success story at an early age. As Creative Director of BCBGeneration and Manoukian, the design darling has lots to share. From a glimpse into the fall collection and her guilty pleasure to her take on Fourth of July chic-wear, Joyce tells her story to Style Solutions.
S: Tell me about BCBGeneration and your role as Creative Director.
J: BCBGeneration is an innovative lifestyle brand inspired by the youthful spirit and creative sensibility of today's woman. Combining timeless aesthetics with playful details and experimental edge, the collection combines diverse contemporary references to form a cohesive vision. As Creative Director, I oversee all customer touch points, including design, creative and marketing for apparel and accessories.
S: Who is the BCBGeneration girl?
J: The BCBGeneration girl is typically between the ages of 18 and 30, intelligent, individual and inspired.
S: What are we going to see this fall?
J: This Fall is all about contrast for our Generation girl. She's into lace and leather juxtaposed against pebbled stretch crepes, sparkle jerseys and washed satin. Clean lines and structured shapes are counterbalanced by soft, playful silhouettes. Rocking wardrobe classics mixed with pattern, color and textural updates, our girl's look is classically cool for Fall 2013!
S: When did you realize that fashion design was your calling?
J: In my early teens, I worked at the BCBG Max Azria boutique near home so I could start learning about the customer and the retail environment. Sketching became a standard pastime. When I was a senior in high school, I begged to be home schooled so I could apprentice at the corporate offices close by in LA, allowing me to learn all facets of the company. After receiving my high school degree, I dived right into the family business and the rest is history!
S: Tell me about your personal style.
J: My style is defined by the three C's: chic, clean and collected. I take risks with my accessories, but I usually stick to a neutral palette.
S: What's your guilty pleasure?
J: Playing hooky to play with my kiddies- although, I get too much joy out of that to even feel guilty!
S: What's up and coming for you?
J: My family will always be my answer to that question- but at the office we are working on our BCBGeneration denim expansion of colorful, printed and textured denim which now also includes amazing casual pieces from plaid button downs to faux-leather tees. I've also taken on the role of Creative Director to Manoukian, which will enter the US market, hitting Lord & Taylor stores exclusively come fall!
S: What's your take on a chic Fourth of July outfit?
J: Patriotic, but not over the top. A solid red, white or blue sundress with gold accessories.
S: What's a tip for staying stylish without breaking the bank?
J: It's very helpful and important to hold onto key, staple pieces that are seasonless. It's totally possible to reinvent your basics by pairing them with new, trendy pieces that are less expensive.