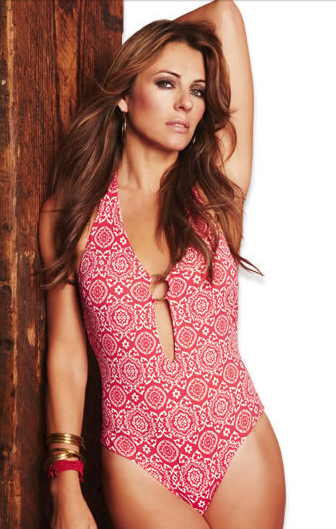 Elizabeth Hurley is a special beauty who I've realized shows up in the most unexpected places; and most recently in a major role on my favorite show, Gossip Girl. Elizabeth breaks down her favorite designers, her summer plans, and her travel tips (just to name a few) in part II of our interview. Indulge!
S: What are some of your fondest memories from staring in Austin Powers: International Man of Mystery?
E: I loved playing Vanessa Kensington in Austin Powers. My son adores the movie and knows all my lines. Mike Myers, who starred in and created the movies, was an amazing man, whom I adored. He made me cry with laughter every day and making the movies was a pleasure.
S: I can't contain myself from asking about your Gossip Girl gig. As an Upper East sider myself, I am obsessed with Diana. How did this happen?
E: I dipped my toe back into show business last February, when Warner Brothers asked me to shoot the pilot for Wonder Woman. A few months later they offered me Gossip Girl. I'm playing Diana Payne, a self-made media mogul with questionable morals. I've played a few villains in my time and love it – less acting required. Just kidding.
S: Too funny! I know that you travel a lot–do you have some tips for always looking great?
E: Flying is dehydrating so I drink as much water as I can, even though I dislike it, and use heaps of moisturiser. I also take a big shawl to snuggle in and my Ugg boots, if I can cram them in my hand luggage. I usually clean up my Inbox on flights, read or stare out of the window and think. I never watch movies and try to sleep as much as possible.
S: Let's chat fashion! Who are your favorite designers, and how do you describe your personal style?
E: Such a difficult question: -I love Versace, Lanvin, John Galliano, Cavalli, Prada, Fendi, Giambattista Valli…the list could go on. I like a sleek, feminine look. I like women's bodies and am not that keen on baggy clothes which hide everything. On vacation I like women to look relaxed and easy-nothing should be tight or uncomfortable. At parties in town I frequently wear stuff that's tight and uncomfortable but that's different! I tend to have a bit of a man's eye and like what men like women to wear more than fashion victim stuff beloved by some editors!
S: What are some activities that you're looking forward to this summer?
E: I'm launching a collection of bed linen in late May, which will initially be sold at the House of Fraser stores in the UK. We spend a third of our lives in our beds, so I think they should be beautiful. I'm also opening an Elizabeth Hurley Beach boutique in Marbella later this month. The collection is very glamorous so it's perfect for the ladies of Marbella. I'm hoping to squeeze in a vacation too!
S: It's been a pleasure to learn about you. What's one last thing that you'd like my readers to know?
E: Always put your family first. I took nearly eight years off from filming in order to raise my son and I don't regret a day of it.