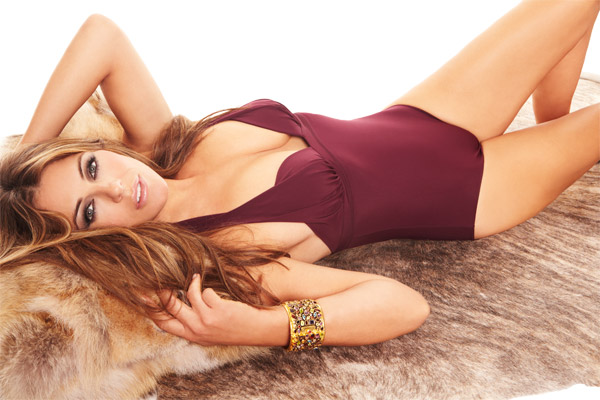 Model, actress and designer Elizabeth Hurley dominates more than one industry. From working with Estee Lauder and how she stays in shape to her line Elizabeth Hurley Beach (and more), Elizabeth gives Style Solutions her story.
Stay tuned for part II tomorrow, where Elizabeth gives us the scoop on staring in Gossip Girl, her favorite designers, and more.
S: Estee Lauder was your first modeling job and it's lasted for over a decade. How do you explain your longevity with Lauder?
E: When Estee Lauder approached me out of the blue and asked me to work for them I was staggered as I'd never modelled before. Now I'm in my eighteenth year and I still love working for them. They've been very loyal and supportive to me and stuck with me through thick and thin. Estee Lauder taught me to make an effort with my appearance every day and now it's a habit. I don't always look glamorous as I work and have my son to look after, but I watch my weight, don't drink much alcohol and try not to bite my nails.
S: As a trained ballet dancer, do you ever incorporate dance into your current exercise routine?
E: I studied dance during my youth, but sadly don't train at all now, although I put myself under pressure to remain slim because I still model my own bikinis. I walk every day with my dogs and force myself to run a bit-but I hate it. I love pilates and yoga but don't do them regularly. I am extremely active though and don't sit still much. I do stomach and bottom exercises whilst waiting for the tub to fill.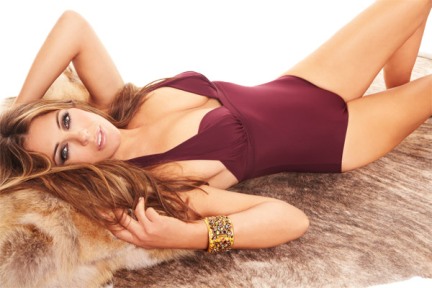 Pink Snake Kaftan: $ 443.00
S: Speaking of bikinis, tell me about the genesis of your line, Elizabeth Hurley Beach.
E: I decided to venture into Beachwear not only because I've always been obsessed with holiday clothes, but also because it's an area where women, regardless of shape or size, can either look amazing or really get it wrong. I wanted to come up with some styles that make people look great and develop a resort collection which would make a woman feel fabulously sexy at any age.
S: What's the direction of this summer's collection?
E: I wanted to make this collection really glamorous: I used beautiful pinks, golds, aquas and reds and some of the bikinis and sarongs are embroidered with tiny mirrors. The Jaguar print Venus kaftan looks particularly rich adorned with Swarovski crystals around the neckline and we also have some great new cut out one pieces which are really flattering. I've also introduced a really beautiful snake print and I lived in the Pink Snake Kaftan on my last vacation.
S: I love those color combinations. What can be found inside your beach bag?
E: I take a towel, sun cream, a book, water in a glass bottle, spare bikini, cotton kaftan and sarong. I put all this in one of my big, towelling beach bags, which are machine washable, with a zipped compartment for money and camera. I make sure the bikinis go with the kaftan and sarong and frequently take everything in white, thus making it easy!