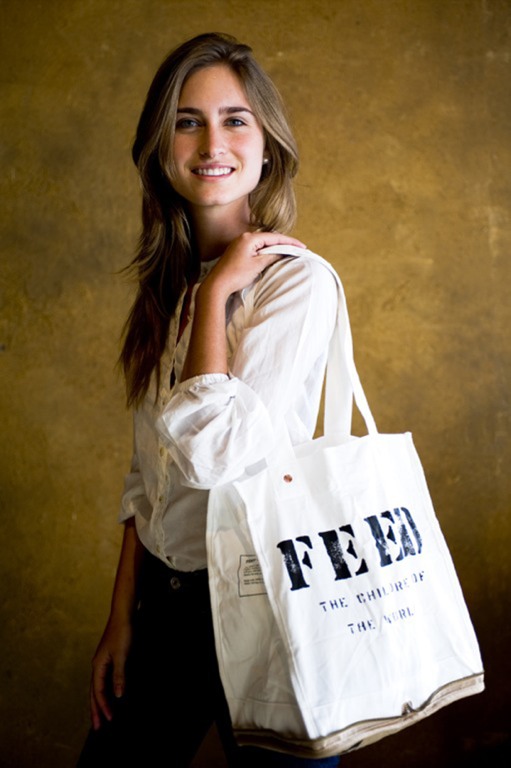 Model and activist, Lauren Bush Lauren, is doing the ultimate community service. From her admirable and inspiring FEED Projects to her experience in the fashion biz and so much more, Lauren gives Style Solutions her story.
S: What was the genesis of FEED Projects?
L: I was inspired to start FEED after traveling around the world with the UN World Food Programme. On these trips to over a dozen countries, I was able to witness the school feeding program firsthand. I wanted to allow others to engage in the fight against world hunger. The idea for the initial FEED bag was to build the donation cost to feed a child in school for 1 year into the cost of a consumer product- a bag. The design was inspired by the bags of food rations I saw being distributed around the world.
S: Describe a day in the life of Lauren Bush Lauren.
L: Depends on the day. Most weekdays, I wake up, go to the gym, shower, get a latte at my favorite coffee shop, walk to work (or bike ride) and then work at the FEED HQ until dinner time, when I generally meet my husband, David, at home or at a restaurant. If i'm lucky, I'll get in a good TV show or have time to read before dinner…then I do it all over again.
S: How did interning for Zac Posen influence you?
L: It was a really great experience for me as I was able to see firsthand how a small business operates and how inspiration becomes designs. Zac was a really great mentor for me.
S: Tell me about the FEED TOMS collaboration.
L: Blake Mycoskie (who founded TOMS) and I have been long time friends and have talked about collaborating for years. He also runs a business that has a wonderful social impact, so a collaboration only makes sense. For each FEED TOMS shoes we sell, we are able to donate 12 school meals and a pair of shoes.
S: How would you describe your personal style?
L: I prefer to wear things that are feminine, elegant and easy to wear.
S: I was wondering if the fact that your husband's last name is the same as your first was a sign that you were meant to be?
L: Perhaps it was fate!
S: What's up and coming for you?
L: I've been working on our first large-scale fundraiser, the Clarins Million Meals Concert for FEED, which will take place at Lincoln Center on May 30th. Artists such as John Legend, Natasha Bedingfield and others will be performing, and President Bill Clinton will be addressing us that night. The goal is to raise enough money to give 1 million school meals in 1 night.
S: You have it all: beauty, smarts, a handsome and successful husband, and your admirable "do good" activities. Is there anything missing?
L: Ha! I do admit I am a very blessed lady. I don't feel that anything is lacking at the moment; I have my health, I am doing something I love, and I'm surrounded by people I love.