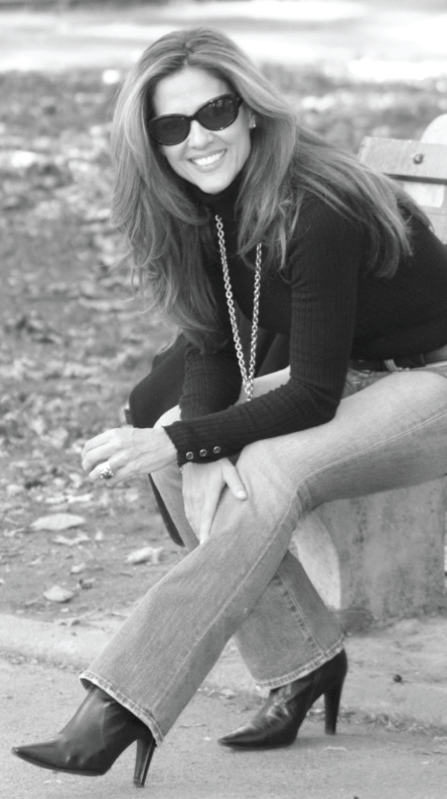 Sunglasses are one of my favorite accessories. No matter where in the world I am, or what season it is, I never leave my home without a pair in my handbag. I discovered Velvet Eyewear at Henri Bendel's in September and have fallen head-over-heels obsessed with the brand. From finding the right shade to fun color options and upcoming sunglass summer trends, I present my interview with Velvet Eyewear Founder, Cindy Hussey.
S: Why do you think it's difficult for people to find sunglasses that fit best?
C: I think it may seem difficult because most people look good in more than one style, so it's hard to make a decision. Think about buying 2 different styles, like a metal and a plastic, or a round shape and a rectangular shape. Also color can be a factor. Buy a basic color like Black or Tortoise and also some other color for the season like Yellow or Red.
S: Sunglasses not only protect from the strong sun rays, but they are also an extremely popular fashion accessory; when did this happen?
C: Wow! A long time ago in the late 1930s. When I think of sunglass history, I think of Bridget Bardot; what a beauty!
S: You also design optical glasses. How would you describe them?
C: They have simplicity and class.
S: What colors, shapes and materials do you forecast for this summer?
C: Lots of color! Oversized round shapes and plastics will be huge, and metals will be important too.
S: Although you suggest purchasing 2 pairs of shades, is there a particular style that suits all seasons if one wants to invest in just one pair?
C: Pick a pair that fits well, and go with a color that you feel compliments your wardrobe.
S: Where do you look for inspiration when designing?
C: I almost never look at other eyewear for inspiration; I look at overall trends in fashion and lifestyle and incorporate those trends into Velvet Eyewear.
S: My favorite style in your collection is the Janis (in photo above). What's yours?
C: I wear a lot of different Velvet Eyewear styles, but I seem to wear the Velvet JOIE in black the most. Stay tuned for many new styles and lots of great color!