What better way to celebrate Valentines Day than with a piece of jewelry? Whether purchasing as a gift, or just for yourself, diamonds are a girl's best friend. This is my interview with Sydney Evan jewelry designer, Rosanne Karmes. With gorgeous and playful designs, lots of colors, and many celebrity devotees, Rosanne tells her story to Style Solutions; this is part I.
S: Where did the name, Sydney Evan, come about?
R: Sydney is my 13 year old daughter, named after my late father Sy, and Evan is my son, which means stone in Aramaic. Both names have a very special meaning to me. I was having a conversation with a friend and asked him what I should name my line. He blurted out my children's names and that was it!
S: I love every one of your collections. Where do you get inspiration?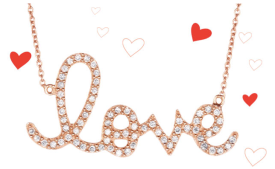 R: Everywhere! But if I had to pinpoint 3 things it would be my French born mother; she was the perfect example of class and elegance, mixed with my slight rebelliousness and silly sense of humor. I love to travel and find interesting things that inspire me –architecture, art, everything from the 70's, furniture, etc. My family is one of my biggest inspirations; they are always pitching in to help me think of ideas for new designs and they really understand my work.
S: Your "love" pieces (perfect for V-Day!) are super popular. How did you come up with making words into jewelry?
R: In 2008, I was sitting at my design table and just started thinking about universal designs that would make people happy. The most important word in the world is love. It is the most wonderful feeling and people will do anything for love, so why not give it to them? I started with a necklace, then a smaller necklace, then came a ring and a bracelet, a charm and finally stud earrings. Since love never goes out of style, the "love" collection will never be finished. It really is one of my favorite collections ever.
S: Who are some Sydney Evan celebrity devotees?
R: Celebrities of all ages and styles love Sydney Evan! Our celebrity fans include Sarah Jessica Parker, Rihanna, Gwenyth Paltrow, Gwen Stefani, Emma Stone, Sofia Vergara, Zoe Saldana, Minka Kelly, Lea Michele, Brooklyn Decker, Bar Rafeli, Halle Berry, Jennifer Aniston, Katherine Heigl, Kelly Ripa, Diane Kruger and many more.
Stayed tuned for part II tomorrow!