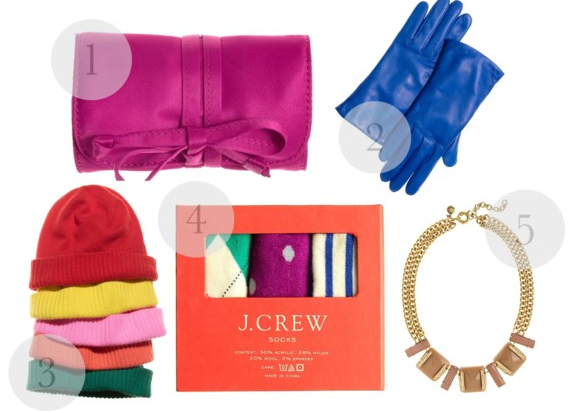 1. Satin jewelry roll, $23
2. Cashmere-lined leather gloves, $98
3. Cashmere hat, $58 (each)
4. Holiday socks 3-pack, $25
5. Resin colorblock necklace, $68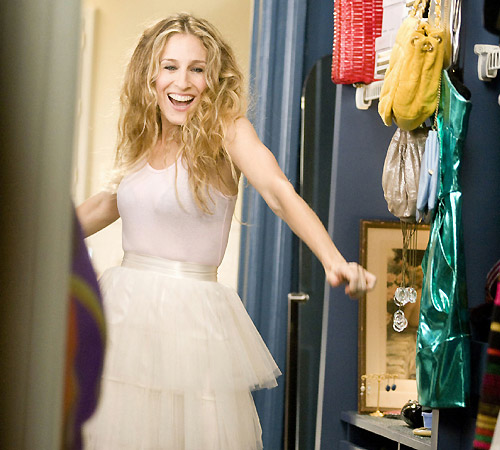 Fictional character, Carrie Bradshaw, might have been scared to commit to men, but she was never scared to commit to color in her wardrobe. It's amazing to go back and watch episodes from the late 90s, a time when fashion's hottest pieces included puffy skirts, overalls, flared trousers, pastel colors, miniskirts, tank tops revealing the midriff (better known in this day and age as cropped shirts), capri pants, and more.
Regardless of what types of colors -be it pastels or neons- were popular then versus now, color is always "in". On the contrary, we find that it's easier to stick to the basics when holiday shopping for someone whose color preference we simply do not know.
But the constant black, white, and grey can be boring. To compromise, we don't have to be completely knowledgable about a person to purchase a gift that doesn't scream "playing it safe"; something a little more daring. Instead, we can buy simpler items with a twist.
J.Crew is one of my favorite stores to holiday shop in because the options are endless. Whether you're the hipster, the preppy one, or the fashionista (the list goes on), the eclectic mix of merchandise -be it a notebook, a cashmere sweater to a statement cuff- makes holiday shopping enjoyable.
Above are 5 staple gift items for her from J.Crew that have a rather bold and colorful twist, yet aren't too risky that you'll be worried whether your miss likes it or not.
with style,
S